The Vicar of Baghdad, Canon Andrew White, will be appearing at the 2012 Ultimate Christian Library Book Awards, which are being held on Wednesday May 9th at the Christian Resources Exhibition (CRE) in Sandown Racecourse.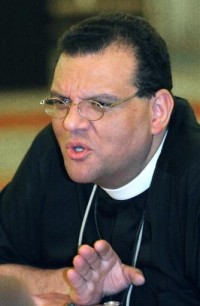 Canon Andrew White, the Vicar of Baghdad
Canon White won the award back in 2006, and his book, Faith Under Fire, is one of the five shortlisted in the adult category. He is flying in from the USA en route to the Middle East for the awards and will be interviewed alongside Canon Winter, former head of BBC religious broadcasting, who is a guest presenter.
Canon Winter has written a book, Highway to Retirement, and so the two men will be sharing different perspectives on the theme 'living close to the grave'.
Other guests include Nick Page, The Wrong Messiah, and Susie Howe, Resistance Fighter, both contenders for the adult category prize.
The awards also have a children's book award category, which is new this year. Guests representing this category include Andrea Skevington, The Lion Classic Bible, Andrew Guyatt, The Oncoming Storm, and Hannah MacFarlane, who wrote Babylon.
The awards are organised by Speaking Volumes. The director, Paula Renouf, said: "We're delighted that so many authors will be present – each book is a worthy contender for the two prizes of £1,000 – but it's the public who have decided and they've certainly voted enthusiastically!"
Everyone at CRE is welcome to attend the ceremony at 12 noon in the Parkview Suite at Sandown Racecourse during CRE. The first 100 guests will receive a free 'literary' goody bag too...
April 25th, 2012 - Posted & Written by Claire Musters