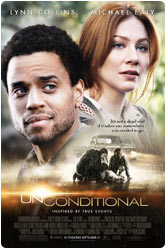 Unconditional is based on the true story of children's author Samantha (Sam) Crawford and her childhood friend Joe Bradford (Papa Joe). They meet, at a hospital, providentially after many years as adults after Sam saves the life a young girl.
Sam is struggling to cope after the murder of her husband and her unsuccessful search to find the identity of her husband's killer. As the films opens Sam is preparing to kill herself when she is stopped by the hit-and run incident.
The story unfolds as Sam gets to discover more about the work Papa Joe is doing amongst deprived children and learns about his struggle to overcome growing up without a father on the wrong side of the tracks whilst coping with renal failure.
These two life stories intermingle and through working with Joe, Sam is able to come to the point of rediscovering hope and a purpose in life. It's a powerful story, well told and one worth sharing.
May 8th, 2014 - Posted & Written by Together Magazine