By Claire Musters
Matt and Beth Redman and Christian hip hop band LZ7 have joined forces to write 'Twenty Seven Million', a single that raises awareness about the huge global problem of human trafficking.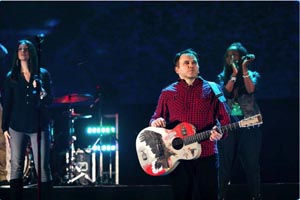 Released by iTunes on 26 February, a day earlier than planned, the single is already rising up the iTunes chart quickly.
The two-couple writing team were shocked by the statistics they learned from the A21 Campaign, an anti-trafficking charity: 27 million people are trapped in some form of slavery today, an estimated 1.39 million people are victims of commercial sexual servitude worldwide and anti-trafficking workers are only able to rescue between 1–2% of victims.
Christine Caine, founder of the A21 Campaign said: "A21 is beyond excited about the release of 'Twenty Seven Million'.
"With the help of Matt and Beth Redman and LZ7 we want this song to awaken people to the reality of human trafficking – and then inspire and empower them to rise up against injustice, and fight for freedom. It's been said that music creates culture. Our hope is that this song will help create and enact a culture to DO SOMETHING about trafficking."
The song's lyrics tell the story of a real-life girl who was trafficked from Eastern Europe into London's sex trade: "Trapped in the night, trafficked and beaten. All a part of an evil economy, Nothing more than someone's commodity. She's numb, she's dead from the inside out, Her heart is screaming but you don't hear the shout."
The anthemic chorus rings out: "We got to rise up, open our eyes up, be a voice, be the freedom, come on stand up" – but can a song really make a difference?
The Redmans and LZ7 obviously believe so, as does Gavin Shuker MP, Chair of the All-Party Parliamentary Group on Prostitution: "'Twenty Seven Million' is an excellent tool to wake people up to the issue of sexual exploitation, both globally and right here in the UK. We know that public awareness is the foundation for creating real change in society, and I hope this song inspires all who hear it to take action against modern-day slavery."
In a live webcast in the run up to the single's release, Beth said: "We're not selling a track here, we're raising an army." Their hope is to reach No 1, not for themselves, but to drive awareness home and facilitate a cry for change.
February 27th, 2012 - Posted & Written by Simon Cross