Jan Greenhough shares some memories of her long friendship of this year's Outstanding Contribution to Christian Publishing Award winner.
The CRT Retreat has always enjoyed the support of Christian publishers, who supply a wide range of books to churches and bookshops. However, in recent years there has been a new presence: the Association of Christian Writers. After all, if the authors didn't write the books, the publishers would have nothing to publish, and the bookshops would be deprived of a major part of their stock. The writers came to meet publishers and retailers, to gain a better understanding of the market, and to network among themselves with fellowship and prayerful support. And, of course, all writers are avid readers and therefore customers!

A popular event at the retreat is the awards ceremony. Members of ACW observed that while the awards for individual books were collected by representatives of the publishing companies (not the authors), and many others were won by shops and organisations, the awards for individuals were largely confined to retailers. It seemed that there was a gap which could be filled by an award with special significance to writers, and given to someone who has made a significant contribution to the world of writing and publishing.

The first such award was given to Pat Alexander, who with her husband David founded Lion Publishing, at a time when the Christian publishing market was very different from today. This year's ACW award, for an individual who has made an outstanding contribution to Christian publishing, goes to Tony Collins.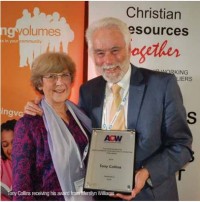 I first encountered Tony Collins in our first week at university, at one of those after-church coffee-and-cake events for Christian students. He was a lanky, dark-haired young man in a regrettable corduroy suit (in his defence, it was 1969) who not only sang beautifully, but could recite prodigious amounts of comic verse from memory. He was passionate about language, literature and his faith, and already had the persuasive manner which could infect others with his enthusiasms. (I now possess the entire canon of Terry Pratchett books – thanks, Tony.)

We stayed in touch through our graduations, marriages, births of children, Tony's training at All Nations Bible College and my first job with an educational publisher. By the time he took up a post as editor at Kingsway, I was a stay-at-home mum with a sideline in freelance editing and ghost writing, and thus began our long professional association.Tony was always an innovator. Working alongside Richard Herkes, he kept commissioning books (especially humour: 101 Things To Do in a Dull Sermon is still in print) which didn't quite fit into the Kingsway list. His solution was to develop the separate imprint which became Monarch Books. It was so much Tony's inspiration that when he moved on – via magazine publishing to Angus Hudson and now Lion Hudson – the Monarch imprint moved with him.

For many years, in spite of the flourishing market in the USA, it was hard to find Christian fiction from UK authors. In 2012 Tony set out to remedy this. A year later, under his leadership, Lion Hudson launched its Lion Fiction imprint with spectacular success. The authors he has found and nurtured are now selling internationally, in both Christian and secular outlets.

Over the years Tony has been responsible for finding and honing outstanding talents, and his enthusiasm for his latest authors is legendary. He has also been generous in helping others. As a tutor for Media Associates International he delivered seminars to publishers and booksellers in Francophone Mali and Congo – in 40-degree heat and entirely in French! Closer to home, he has been a good friend to the Association of Christian Writers, offering one-to-one sessions at meetings, interviewing and advising the writers who come to 'pitch' their books to him.

In an article for would-be authors in 2011, Tony explained what he was looking for in a manuscript: energy, focus, courtesy and spiritual authenticity. With the addition of 'generosity', those qualities sum him up pretty well.


July 14th, 2014 - Posted & Written by Together Magazine