NFL superstar Tim Tebow addressed 15,000 people at Texas based Celebration Church's Easter service on Sunday.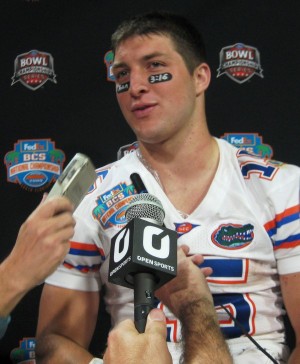 Copyright Open Sports (creative commons)
The New York Jets backup quarterback inspired one of this year's biggest memes: Tebowing, the action of dropping to one knee in prayer.
During his 20 minute interview at the Georgetown based church, Tebow said: "My biggest prayer is to kind of make that cool again, for a high school kid to get on a knee and pray and it's not something that's unique or different and that it's OK to be outspoken about your faith."
Celebration church had pulled together more than 1,200 volunteers to help facilitate the open air service. Pastor Joe Champion said: "Obviously it's our Super Bowl...Easter is the resurrection of Christ in which we celebrate in our faith."
But the Pastor was keen to tell reporters that the event would not be about celebrity. "There will be the sacredness of Easter. It's not a Tim Tebow show. There's really only one celebrity that we are going to honour and highlight."
Though professional athletes have often publicly professed their faith, according to Time Magazine's Newsfeed, Tebow is the first active player to preach at an Easter Sunday sermon.
Tebow has quickly risen to be one of America's most well known and talked about Christians. He is well known for his desire to share his faith and supports more than 40 evangelists working in his home country of the Philippines.
April 11th, 2012 - Posted & Written by Sam Hailes