While other Christian bands have been and gone, Superhero have been consistently releasing albums and touring at home and abroad for 9 years.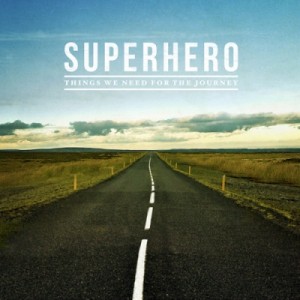 Their website says it best: "It will never last" – "It's impossible" – "You can't do this in Europe"…..well, that was 9 years, 5 albums, 1500+ gigs, 350,000 people, 21 countries and 5000 responses to the gospel later!! Don't tell these guys it can't be done….unless you want it done!"
Following on from their outstanding 2009 album The Bicycle Thieves, the band are back with Things We Need For The Journey.
Their infectious, guitar led brand of rock has already rightly propelled the band to great success. Now on their return, the songs are even better, the production cleaner and the passion unmistakable.
It's rare to find an album where every song stands by its own merit. But on this cracking release there isn't a single 'filler' track to be found.
Choosing to write about real life issues and even the odd tricky subject, frontman Tim Cheshire's songs are once again intelligent and thought provoking.
The title track opens with the words "well in the end it's all going to burn up, so we're just taking what we need for the journey" while the next track Troubles is about God taking the singer's worries and heartaches away. It's set to some rocked-up drum and guitar parts too. It's definitely a contender for the best song the band has ever released.
The band follow this powerful rock anthem with a similarly impactful but more jolly tune Children Of The New Generation. The chorus has a pumping bass line, simple and melodic xylophone part and even some brass.
Superhero's talent lies in making top quality music that can be enjoyed by people of any and all beliefs, while not compromising an inch on their challenging lyrics. Track 7 OMG has the most religious content. It's a prayer for help complete with a spacious instrumental section and beautiful guitar and strings parts.
Other songs contain more subtle references to the band's faith such as "don't give in to what the enemy wants" in No Surrender. Let's Kill Klaatu is a great surprise. Inspired by The Day The Earth Stood Still character, it's a fun, catchy song with a serious message behind it.
Despite a growing fanbase across Europe and the United States, Superhero remain undiscovered by many Christian music fans in the UK. This is perhaps in part due to the band's relentless focus on evangelism – choosing to play to secular audiences in order to preach the gospel at their gigs. The beauty of the band's music is in its inclusivity and accessibility.
Things We Need For The Journey is full of outstanding songs. Tim Cheshire is without doubt one of the UK's most underrated songwriters and Superhero are probably the hottest Christian band in the UK today. Whether it's the guitar solos, clever lyric writing or heavy instrumental finish at the end of the album, every second of this release is pure class. All things considered, Things We Need For The Journey is a major contender for rock album of the year.
Rating: 10 out of 10
August 7th, 2012 - Posted & Written by Sam Hailes