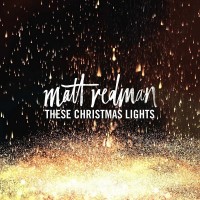 These Christmas Lights: Matt Redman's Worshipful Christmas
In what feels long overdue, Matt Redman has released a Christmas album! As you would expect from the creator of 10,000 Reasons and Unbroken Praise, it's incredibly moving, festive, and worship-filled. But these aren't just songs to play in the background whilst you eat mince pies and sprouts.
These Christmas Lights is as much an expression of worship as it is a collection of carols. This is an album which celebrates Jesus' life in its entirety, and all that it means for us today.
The opening, and title, track kicks off the album with a celebration of the wonder and majesty of Christmas. Light and hope are here (and throughout the album) inseparable, painting Jesus' birth with an explosion of brightness and feeling:
'Open my eyes
O, heart believe
The wonder of that Christmas night
Be born in me'
Following on, His Name Shall Be feels at home in a Christmas service as it does anytime of year and furthers the infectious hope that runs throughout the album. Its chorus is one which takes iconic verses of Jesus coming and lifts them up with soaring vocal cues and peeling bells.
But this album is as devoted to its message as its sound. So much so that Matt Redman even travelled to the Holy Land in order to better understand and connect with the prevailing message of Jesus' life and the hope that it brings. Seeing in person the streets and alleys and roads the saviour walked.
These Christmas Lights isn't all Matt, however...
Joining in are Chris Tomlin, Tasha Cobbs, and Natasha Bedingfield: all bringing their unique voices to celebrate Chirstmas' lasting light.
So, as the nights get dark, let These Christmas Lights fill your Christmas with luminous glory of Jesus' birth and discover songs you'll be singing for many more Christmases to come.
October 21st, 2016 - Posted & Written by Aaron Lewendon