As the writer of Our God Saves and Open The Eyes of My Heart, Paul Baloche's songwriting gift is well known.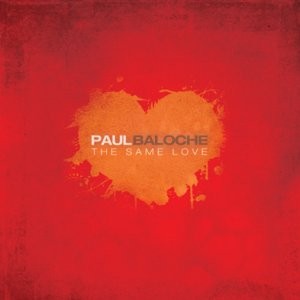 It's a gift the New Jersey born artist has been keen to spread recently with his new instructional DVDs.
This year sees the worship leader release 13 brand new songs on his 7th studio album, The Same Love. The release sees him collaborating and co-writing with many familiar names including Jason Ingram, Kari Jobe and Lincoln Brewster.
The album is a pleasure to listen to from start to finish. Opening with title track, The Same Love, Paul sets the tone for the rest of album by focusing on God's love being made alive in his people.
Like all of the songs on the album, The Same Love can be easily adapted for church worship services. The instrumentation and arrangement is simple meaning most church worship bands will be able to learn the song quickly.
We Are Saved is a little more interesting. An unusual drum beat opens the song and subtle guitar tones are hidden behind a deep bass tone. Plus the chorus is more rousing and anthemic than the album opener.
King of Heaven is a stripped back mid tempo number with some great backing vocals from Leslie Jordan.
All Because of the Cross is a more upbeat song inspired by, and starting with the lyrics "what can wash away my sin? Nothing but the blood of Jesus". A new chorus has been added to the hymn, which fits well, but it's the simple bridge of "Oh the blood of Jesus / On the cross our sin erased / In your death our life was raised" that makes a lasting impact.
Your Blood Ran Down and My Hope both contain profound lyrics but when it comes to the music, they drift into the realms of predictability and meritocracy. Oh Our Lord lifts the recording with a simple yet effective chorus of praise "How majestic is your name in all the earth". A clever arrangement, clear vocals and another powerful bridge make it a very memorable song.
Christ The Lord also borrows lyrics from a well loved hymn. This time it's the Wesley classic Christ The Lord is Risen Today.
Reign in Me is a stand out song, partly thanks to both Jason Ingram's distinctive voice, as well as his writing talents. With a slow tempo and plenty of emotion, it sounds similar to some of One Sonic Society's own songs.
Just Say is a piano led tune with beautiful violin and acoustic guitar parts, but a weak melody line. Loved By You is a little stronger and more confident while Look Upon The Lord features a beautiful duet with Kari Jobe.
Final track Shout for Joy acts as a great send off. Upbeat and strong, the song has been thoughtfully produced. Despite clocking in at over 5 minutes, the ending feels rushed and does a good job at leaving the listener wanting more.
All in all this is an excellent set of new songs for the church. There's little to push the boundaries stylistically. Paul's focus has been to raise up other worship leaders, so it's unsurprising he's released an album full of simple songs that others in the church can pick up on. The Same Love does a good job in solidifying Paul Baloche's well deserved position as one of the world's most respected and gifted worship leaders.
Rating: 8 out of 10
May 2nd, 2012 - Posted & Written by Sam Hailes