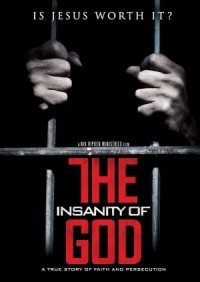 The Insanity of God is a true story, documentary, extended interview style film looking at the question: Is Jesus worth it?
This documentary is the true story of missionaries Nik and Ruth Ripken and is based on their bestselling book of the same name. In an extended interview style documentary they discuss their lives and what led them to become missionaries. However when the death of their son happens, out of the pain, they decided to journey and follow Jesus into the darkness and depths of the persecuted church asking the question is Jesus worth it?
The Ripkens see suffering and pain, they visit Somalia, the Middle-East and Africa and are left wondering how faith can survive and flourish in these places around the world that are overcome with the darkness of sin, despair and hopelessness. Throughout their journey however, they hear from the lives of believers in these countries, they hear tales of perseverance, faith and of resilience for Christ. Their doubts and questions are turned around and they discover a deeper knowledge of God, a deeper faith and know that Jesus Christ is the same yesterday, today and forever.
One of the stand out stories from the documentary is that of Dimitri, a Russian who was arrested by Soviet police because his house Church had grown too big. In his cell each morning he would sing praise to Jesus, he was regularly beaten and the other inmates hurled insults at him. The jailers also tried to trick him that they had killed his wife and family, but still Dimitri wouldn't denounce his faith. He was eventually dragged off to be executed but as he was being led away the other inmates stood and sang the same 'heart song' to Jesus that Dimitri would sing each morning. Miraculously Dimitri was not executed that day and was eventually allowed to return home.
Due to the nature of this film there are some scenes that people may find disturbing.
If you are into documentaries or extended interviews, this would be a great watch, one that will challenge you to think about your faith and ultimately leave you thinking about if you would stand strong for Jesus in the face of persecution.
The Insanity of God doesn't just ask 'Is Jesus Worth It?' It answers it too.
Click here to buy The Insanity of God DVD
May 23rd, 2017 - Posted & Written by Laura White