The Case For Christ is a fantastic, inspirational, life-changing, not to miss true story that follows the conversion of journalist Lee Strobel from atheism to Christianity.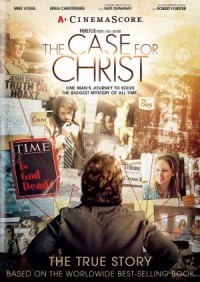 The film draws on Lee Strobel's story which he documented in his best selling book The Case For Christ. It starts in a restaurant where a Christian nurse saves the life of Lee's daughter and says Jesus is to thank, prompting Lee's wife Leslie to began exploring Christianity and going to Church much to Lee's disapproval. Lee decides to use his journalism skills to debunk Christianity, to prove that the resurrection of Jesus never happened. Lee's journey begins as we see him asking questions, finding evidence, all the while from a biased perspective, always fighting Christianity right through to the very end until he cannot fight it any longer.
Mike Vogel portrays Lee fantastically and really draws us in to take the journey with him, through his anger, his struggles, his battle with Christianity and right through to his conversion. As a true story, especially one as powerful as The Case For Christ, it is essential that the characters come across as real and believable and in this film they do.
The film is well produced and directed, and really looks the part, set in the 1980's. The costume, the cars, the buildings and even the colouring of the film match the era.
This is such an amazing evangelistic film that has the potential to change lives, especially for those who are seeking evidence of Jesus, for those with questions such as how reliable is the New Testament? Does evidence for Jesus exist outside the Bible? Is there any reason to believe the resurrection happened? This film will answer those questions and more.
This is a film to take your non-Christian, even atheist friends along to, as this is a true story of an atheist finding Christ, through a journey trying to disprove Jesus rose from the dead.
Ultimately this film will show that all the evidence stacks in favour of Christianity which led to Lee becoming convinced (not that he wanted to) that Jesus is real.
The Case For Christ is a film not to be missed.
The Case for Christ DVD is due for release on 17th November 2017. It is available to pre-order now.
This review originally appeared on The Christian Film Review.
October 27th, 2017 - Posted & Written by Laura White