After the following albums were released, I really thought that this particular CD series had finally come to an end...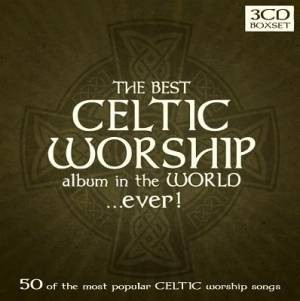 But no! It's time to say hello to The Best Celtic Worship Album In The World…Ever.
Are the publishers 'scraping the barrel' with this new compilation?
The short answer is yes, but before you click away and read something else, it's worth noting some of the high points tucked away in these three CDs.
Robin Mark's name is almost synonymous with Celtic worship, and rightly so. The Belfast based worship leader has sold over two million albums during his 12 year ministry. And it's his song Garment of Praise that opens the album.
Robin's signature song Days of Elijah is also included, as is the beautiful When It's All Been Said and Done and the rousing Lion of Judah. His live ten-minute live version of Revival on the third CD is also a high point.
All of the songs on the album, including Robin Mark's can be found elsewhere. So if you already have a decent collection of Irish themed worship albums, this isn't the CD for you.
In and amongst the average sounding songs there are a few welcome surprises. Cathy Burton isn't the first artist you'd associate with Celtic praise and worship, but her song The Light Of The World definitely has an Irish feel to it. On the other hand Rend Collective are as Irish as they come, and their version of You Are My Vision is a fantastic new take on a classic hymn.
Another surprise is the inclusion of a song that Westlife's cover in 2005 has helped make popular. Sheila Walsh's version of You Raise Me Up is stunning, and does total justice to the original power of both the melody and lyrics.
Claire Hamilton's Breathe On Me is similarly memorable. The artist has only released a 6 track EP, but is already showing great promise.
It will come as no surprise to learn that modern day hymn In Christ Alone has been included on the compilation. And a fresh arrangement by Nick Fletcher and Yvonne Lyon results in the well-known track being given a new lease of life.
But fans of Stuart Townend's original recordings need not worry. Plenty of his material, including O My Soul and Come People of the Risen King have been included.
Instrumental tracks have been thoughtfully interspersed between songs, giving the album a good pace and structure. A mixture of live and studio elements also help to bring an element of diversity to the 50 songs.
Having said this, it doesn't matter how you spin the recording, it can be simply summed up as this: 3 hours and 48 minutes of Celtic worship. It won't be to everyone's tastes but atleast The Best Celtic Worship album in the world…ever! does exactly what it says on the tin. And no one can deny the fact that this compilation is great value for money.
Finally, it's time to fill in the blank. The name of Kingsway's next worship compilation will be… "The Best ____ Worship Album In The World…Ever". Any guesses?
Rating: 8 out of 10
April 5th, 2012 - Posted & Written by Sam Hailes