More then 50 million eggs will be sold this week; The Real Easter Egg is the only one that tells the Easter story on the box. It is also the only Fairtrade charity egg on the market.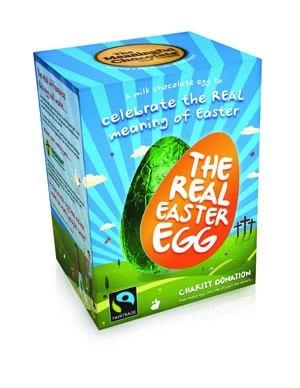 Launched last year, The Real Easter Egg had to fight its way onto supermarket shelves as they turned it down initially. However, four are now stocking it.
Morrisons' corporate affairs director Richard Taylor said: "The Real Easter Egg is a great addition to our range, offering customers even greater choice and the opportunity to raise money for good causes at the same time."
Church leaders have also welcomed the product and congregations across the UK have already ordered more than 150,000 eggs for online/home delivery, making it the biggest selling mail order Easter egg in the UK. The product has doubled the success it had last year.
The Bishop of Aston, The Rt Revd Andrew Watson, said, "There are more than 80 million Easter Eggs sold in the UK every year and it's brilliant that people now have the choice of buying an egg that celebrates the real meaning of Easter. The Real Easter Egg not only tastes good but does good."
In the run up to Easter the egg is only available in Morrisons, Co-op, Booths, Waitrose and independent shops. As the item has sold out online, a Google Easter egg hunter has been created to help people locate their nearest stockist.
The Meaningful Chocolate Company, which produces the Real Easter Egg, has released a 30-second radio ad designed to encourage shoppers to buy the ethical Easter egg. Produced by Whistling Frog Productions, the ad is being broadcast on Premier Radio and local radio stations nationwide as well as on YouTube.
David Marshall, from The Meaningful Chocolate Company, said: "We hope people will hunt out the Real Easter Egg this year. We need to make sure the Good News is there amid the secular eggs."
April 5th, 2012 - Posted & Written by Claire Musters