Hailing from Winnipeg, Canada, Starfield have been writing contemporary and worship songs for over a decade. Playing shows across America and ocasionally travelling further afield (the band played Soul Survivor in 2008) the band have build up a wide fanbase.
After five succesful years with Sparrow Records, the band decided to go indepdendent with their new album The Kingdom, released this year. We caught up with lead guitarist Jon Neufeld to find out more...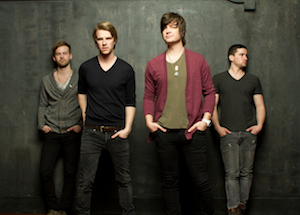 1. What led to your decision to go independent?
We had made four records with Sparrow/EMI, and felt it was time for a change. It was a very cordial split, and we will always remember our time at Sparrow as one full of growth. We learned a lot from a whole bunch of really talented people, and they invested so much time, energy and money in us. We are very grateful.
Going independent is exciting and scary at the same time. We effectively have to learn how to do everything the label has been doing for us for 6 years, which is a lot.
But when it comes to the music, we felt less confined creatively. We didn't have to fit into a genre or a format as much as we have in the past. So in that newfound freedom, I think we let our creativity breathe a bit more on this record. We're really proud of it as a whole.
2. Some people say a lot of worship music all sounds the same. Do you agree, and is your philosophy to conciously push boundaries within the Christian world?
Sure, I think a lot of Christian Music sounds the same. I think worship music is a genre within a genre, being more defined by U2 type guitar tones, and four on the floor drum beats and 'singable' lyrics and melodies. But I don't think this has to be a negative thing.
I think worship artists are often criticised for making music that is simple and recycled, but the truth is, I believe worship songs are some of the hardest songs to write for this reason: In writing a worship song, you are attempting to write a song that is artistically unique and original, yet at the same time wanting it to be easily adaptable and playable by anyone with an instrument.
So it's an attempt to make something that a 12 year old can play and sing on the guitar because it's so simple, yet artistic enough to sound original and emotive. I think the sound of worship music has become popular and many artists have begun mimicking this style in order to feel like it's true worship. All music can be worship, but perhaps it's defining it a little more clearly. "Church songs", and "Christian songs". As Starfield, we have tried to write both.
3. What bands/artists have you been listening to recently?
Adele, Foster the People, Ryan Adams, The Civil Wars, Phil Wickham, Coldplay, and a lot of Veggie Tales with my 2 year old son Hudson.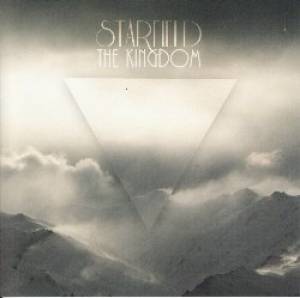 4. What does the upside down triangle on the front of The Kingdom album represent?
It doesn't have a meaning. It's just a shape. We've had a lot of interesting theories though.
5. What was your favourite Starfield album prior to this one?
Probably, Beauty in the Broken. We spent so much time crafting and loving on the songs. Going back and listening to it now, I think that's what stands out. The songs feel complete.
6. Is your vision to provide songs for the church to sing or to entertain people?
I think it's always been a little bit of both. We have always felt compelled and driven to write worship songs for the church. The biggest encouragement we ever get, is when people approach us at concerts and tell us that they do our songs in their church. That is what we feel most called to do.
But beyond that, I think that we've always had to get our creative, less cookie-cutter side out. So we have songs that are rock songs, and aren't that singable in a corporate sense. But our concerts always go the way of a church service one way or another, we just use other songs and styles as drawing cards I suppose. We are entertainers, and worship leaders at the same time, and it's a balance that we're always attempting to keep in check.
7. The Kingdom album sounds really different? What caused you to change your sound?
That's refreshing to hear. As an artist you are your own worst critic. Often there is a lot of insecurity wrapped up in your art. All that to say, I'm glad that people feel that it is a fresh sound for Starfield.
We tried to throw out the rule book a bit, and just write and record what we felt like without thinking too much about the different 'boxes' our music has to fit in - radio, church service, etc. So stylistically I think what came out was something exciting and fresh for us. I hope that people enjoy it as much as we enjoyed making it.
8. What has God been teaching you recently?
Well, both Tim and I have young children now so that has shifted our focus quite a bit in the last few years. We have a lot more responsibility at home not just as husbands, but as fathers as well.
Traveling so much can be taxing on our families if we don't learn to communicate well, and spend quality focused time with our families when we're home. I think God is teaching us how to balance our families, and our careers [and] ministries. We are learning as we go, and fortunately our wives are still so gracious and supportive of us in this new season of life.
9. What's the best Christian book you've read?
Probably, What's So Amazing About Grace? by Philip Yancey, or Mere Christianity by C.S. Lewis.
10. What does 2012 have in store for you as a band?
Plenty of Touring, possibly a live album, and figuring out how to be an independent band again.
March 20th, 2012 - Posted & Written by Sam Hailes