Sweden have been crowned champions of European football – by the Coptic Orthodox church.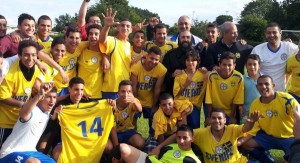 Victors Sweden celebrate their one nil victory in the final of the European Cup
The announcement came after the Swedes triumphed against France in the finals of the Coptic Orthodox European Football tournament, winning by one goal to nil.
Teams from countries across Europe; including Holland, Germany, France, Italy, Sweden and Switzerland, took part in the contest, with previous champs England going out in the Semis.
But soccer goals weren't the only prizes on the mind of the tournament's organisers, who know very well the power of sport to bring people together.

His Grace Bishop Angaelos, General Bishop of The Coptic Orthodox Church in the United Kingdom which hosts the European tournament said: "This tournament does not only bring young people together through sport, but from a wide variety of cultures and countries and within the context of Christian ministry.

"We had approximately 300 people here from across Europe, mostly between the ages of 16 and 25. People came to take part, support their teams, as well as participate in a Bible study, prayer sessions and a Liturgical service, so all in all the tournament provided a healthy, spiritual setting for people to enjoy.

"Members of the community who attended would have also witnessed youth providing clear examples of good sportsmanship and fellowship, breaking the mould that society often presents of young people as socially dysfunctional which is not necessarily the case.

"This year we saw a positive development of relationships that I believe will continue to impact people's lives.

"This football tournament shows us that Christian ministry should not just be through conventional channels as these are sometimes rejected as being irrelevant.

"We should always be looking at various ways to minister to people, and to touch upon their passions and strengths, and in light of the Olympic year, sports ministry is especially effective.

"I look forward to next year's tournament, and encourage members of the community to join us."

Team players are selected at the annual national tournament (COFTA-Coptic Orthodox Football Tournament Association) held in Stevenage, these players are chosen to form the Coptic United team who take part in a Christian league in Croydon, as well to represent England in the European tournament in Stevenage.
The European teams are asked to form teams representing as many of the churches within their country as possible, selecting the best of the best to represent their countries.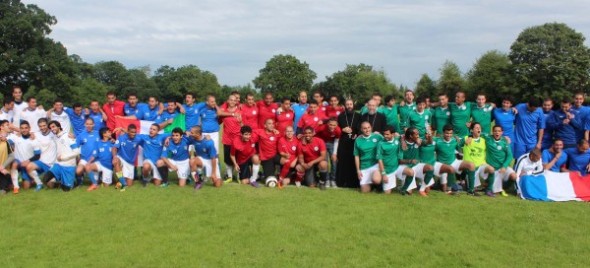 Competitors in the Coptic Church's European Football tournament
August 1st, 2012 - Posted & Written by Simon Cross