The Salvation Army are set to play an unlikely part in the 2012 Olympics, as the fortnight of sport draws to a close.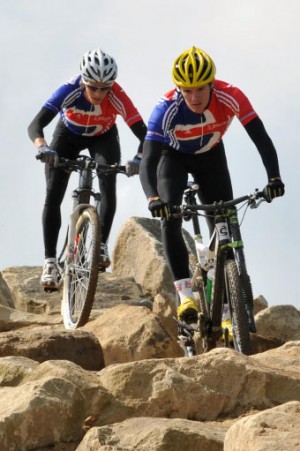 Team GB cyclists tackle rocky terrain at Hadleigh Farm
A farm owned and operated by the denomination will host the Olympic mountain biking races, on August the 11th and 12th.
When organisers were searching for a suitable location, Hadleigh Farm in Essex turned out to be perfect for the event, with its proximity to London combining with a range of suitable terrain – making it ideal for the two wheeled challenges.
Hadleigh, which has been a commercial farm for more than 120 years, is the site of some of the Salvation Army's most important work, helping marginalised members of society learn new skills, and find employment.
As well as hundreds of acres of mixed arable and livestock farmland, Hadleigh also boasts a tea room, a farm shop, and a training centre for people with special educational needs, who head there to learn subjects such as IT and carpentry.
And crucially it also offers some fantastic terrain for mountain biking, with grassland, woodland, and steep slopes measuring 70 metres from top to bottom.
Now British athletes, including top cyclists Liam Killeen and Annie Last, will hope to join other British cyclists on the medals table, as they prepare to take on the best of the world, on the Hadleigh cross country trail.
Hadleigh has a noble and international history, having at times provided a temporary home for refugees from war and persecution, including Basque children fleeing the Spanish Civil War in the 1930s, and Jewish refugees who fled to the UK to avoid persecution in Germany and Eastern Europe.
Ivor Telfer, chair of the Salvation Army's Olympic Task Force, said: "LOCOG were looking for an appropriate venue for the mountain biking, and were looking to keep it close to London.
"They had contact with Essex County Council, who came to have a look at Hadleigh and said 'How would you feel about offering your farm to LOCOG?'
"We said yes, we want to support the Olympics, so let's sit down and talk. It's been really interesting, encouraging and exciting.
"It's just been great working with Essex County Council, helping to make sure this Olympic event goes off really, really well.
"There's been a lot of work. But talking to the trainees, they say it's been great for them. They've had senior government and LOCOG officials come out. They are all just delighted. That's certainly one of the important things for us - the trainees getting excited and having some good opportunities to see some world class sporting events."
The specially designed trail was installed on the farm by specialists working around the agricultural and training operations, to develop a top quality track.
And now the Salvation Army are looking to the future – with plans to develop a range of public access Mountain Bike trails on the farm, to help ensure an 'Olympic legacy' for Hadleigh farm.
August 10th, 2012 - Posted & Written by Simon Cross