Once again Didier Drogba delivered when it mattered most - his dramatic 88th minute equalizer giving the Blues a dramatic lifeline and then his cool penalty sealing Chelsea's first ever Champions League title, as they beat German giants Bayern Munich in a cliffhanger in Munich.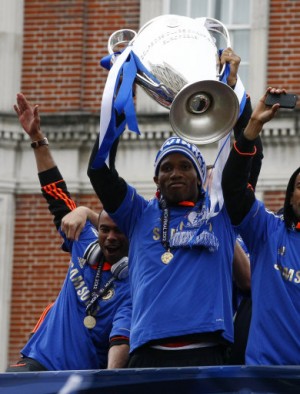 Chelsea's Didier Drogba lifts the Champion's league trophy.
The 34 year-old Ivorian - the clubs' fourth highest scorer, has notched up a 100 goals in 226 appearances. He's bagged 39 goals in 75 Champions League appearances, since making his first appearance in the tournament for previous club Marseille in 2003. Now he has finally erased his Champions League heartache which had seen him lose a final, three semi-finals, a quarter-final and two last 16 clashes.
In spite of all his success in London, Drogba has courted controversy since moving across the channel in 2004- regulary being criticized for diving, sent off in his clubs penalty shootout defeat to Man Utd in the 2008 Champions League Final, being banned for 3 games after throwing a coin into a section of Burnley fans during during a Carling Cup defeat in 2008, then receiving a 6 match ban after a foul mouthed tirade towards referee Tom Henning Ovrebo following Chelsea's controversial Semi-Final defeat to Barcelona in 2009.
Thus it probably will come as a shock to many that Drogba is a very spiritual man, who in an interview after Saturday's match credited God for his team's amazing win. He said: " It was (fate). I believe a lot in destiny. I pray a lot. It was written a long time ago. God is wonderful".
There is more to Drogba than meets the eye: a former United Nations Development Programme 'Goodwill' Ambassador, who donated 3 million pounds of his signing on fee with Pepsi towards building a hospital in his his home city of Abidjan in 2009, the big hearted star is also a member of Ivory Coast's 'Truth and Reconciliation committee' and was named by "Time" Magazine in 2011 as one of their 100 most influential people, because of these efforts to bring peace to his homeland.
May 21st, 2012 - Posted & Written by Hefin Rhys Jones