A barefoot Olympic torch bearer from County Durham, has been hailed as an Olympic hero – in Kenya.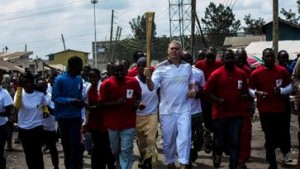 Charity fundraiser John McBride, 48, from Consett, County Durham, who regularly runs the Great North Run to raise funds for CAFOD, braved official disapproval to run his relay leg in bare feet - as a sign of solidarity with deprived young people in Korogocho, Kenya.
After the run, he travelled to the young people of the St John's Sports society in Korogocho, and ran through the streets with them, before donating his coveted Olympic torch to them.
He said: "I run barefoot for CAFOD because, when I went to Korogocho to see their work in action, I saw so many children playing in the streets without shoes. Removing my trainers reminds me of the reason I'm running.
"I was thinking of those children when I got to Barnard Castle on Wednesday, and took my trainers off.
"The Torch Relay organisers told me I couldn't run barefoot, but I changed into the official garb and didn't put my trainers back on, hoping and praying that they wouldn't remove me from the Relay at the last minute.
"I wore the official tracksuit they gave me, but my bare feet showed who I was really running for.
"The pride I felt when I did that is a pride that no amount of corporate sponsorship or torch auctions on e-bay can ever buy. But I felt even more proud handing my Torch over to the boys and girls in Korogocho.
"In the St John's Sports Society, it will act as a symbol of hope. It will stand there as a reminder to all those young people that their dream of competing in the Olympics is not a distant fairy-tale, but something they can reach out and touch with their own hands.
"I was totally blown away today when I did my run through the streets of Korogocho, and saw all the youngsters and adults joining in or cheering us along. It felt like the whole community was taking part.
"You could see how much it meant to them, and I hope my Torch will continue to inspire the young people of Korogocho for years to come. Their joy and enthusiasm is what the Olympics is all about, not any corporate sponsors or celebrity torch auctions."
John's actions went against the rather corporate nature of the Olympic torch relay, which saw big companies driving ahead of the torch in liveried buses.
CAFOD Director, Chris Bain, said: "Many people feel the Olympic Torch procession has been hijacked by the big corporations. And when some Torches were sold on e-bay and the organisers announced they too were auctioning off the torches carried by celebrities, it reinforced the feeling that it was all for profit.
"John's decision to donate his torch to the St John's gym is a wonderful antidote to that feeling, and it reinforces all the ideals and values that the Olympic Games are supposed to represent."
July 9th, 2012 - Posted & Written by Simon Cross