Christian songwriter, Luke Leighfield is doing his bit to help end global poverty.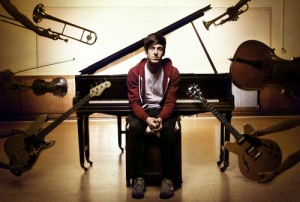 Everytime a copy of his album New Season is sold, the 24-year-old songsmith from Worcester will donate £1 to Christian Aid.
Leighfield has performed 650 shows in 14 countries, recorded live sessions on Radio 1 and Xfm, appeared at festivals such as Greenbelt and Latitude and shared stages with the likes of Scouting for Girls, Kate Nash and Joshua Radin among others.
His uplifting, orchestral, piano driven music has also appeared on TV shows such as Made in Chelsea, Coming of Age and Sky Sports.
Despite his success Leighfield is having to live with his parents in order to make ends meet.
"I don't have much money now but it's about laying a foundation", he said.
"If I do start selling a lot of records then I don't want people who buy my music to think I'm just going to pocket it all. I have a responsibility to them as well.
"I'd want my money channeled into something worthwhile and I feel I can trust Christian Aid to use that money wisely."
The former Southampton University Student added: "It can be a fine line between bragging about giving to a good cause and trying to inspire others to do something.
Leighfield's refreshing openness comes across in his lyrics which speak of his Christian faith.
"I don't like writing to a brief, I just try and express myself as naturally as possible,' he said.
"I'm not a fan of Christian bands which pretend they are purely secular and then once they are a success ram the Christian message down people's throats.
"And on the other hand...I don't want to hide my faith, it is a big part of my life and hopefully that comes out in my music."
"It's important to just be genuine. Hopefully my music resonates with people who do want to go deeper spiritually whether they are Christians or not."
New Season was released yesterday through Got Got Need Records.
March 27th, 2012 - Posted & Written by Sam Hailes