Ever feel like you've left something behind?

I often do, when I go on a journey. I have to travel a good few miles from home before I can recognise it's 'too late now' and put the possibility out of my mind.

I also feel this at a deeper level. What, in my life, have I lost? I can't always put my finger on it, but I sense something is missing. I'm plugging on with things, but I am feeling weary.

What have we lost?

From the writer reading another rejection to the commissioning editor staring at the slush pile, we all – at whatever stage – encounter uncertainty and hard choices. From the publisher trying to make a proposal 'financially viable' to the bookseller hoping that a browser might buy, we can get overwhelmed with the challenges we face. Whether we write books or sell them, we can forget the original calling that compelled us to do these things in the first place. It's easy for our former passions to slip away, for our motives to get mixed up, for the strain of it to take away the joy of it.

There are many factors that can steal our sense of calling, meddling with our memories of why we do what we do. External factors – financial difficulty, stressful relationships and situations, unforeseen circumstances – can crowd in and stifle us. In response, we get worried, fearful and tired. These anxieties begin to dominate us, crowding out our original intentions, squeezing our grand hopes into tiny grains.
This can be particularly acute when our faith meets our profession in such a specific way: working in the 'Christian market'. When balancing the accounts meets sharing the gospel ... are we in danger of trying to serve two masters? We struggle to get the balance right, in more ways than one!

When vocation meets reality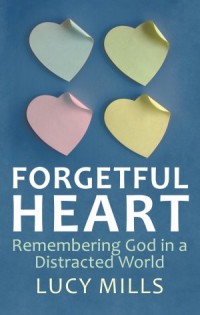 I've had a love-hate relationship with writing over the years. In many ways, it was my dream and I suspected – hoped – it was even my vocation. But when a sense of vocation meets seemingly unrelenting reality, it comes into question.

However, the problem was bigger than this. I had neglected my love for God and my calling to live for him, in whatever I did. I needed to rediscover what I'd left behind. Grieved by the recognition of my forgetfulness, I started to write about it. I began to confess my forgetful heart. You might say I felt called to write it, although I'm wary of saying such a thing. Visions spring to mind of writers dumping appalling manuscripts on frustrated publishers, saying: "The Lord told me to write this and you must publish it!" That makes me – and many other writers – cringe.

Nonetheless, I would say that it was important for me to write the book – a significant part of my journey, regardless of what happened next.

When the manuscript was accepted for publication, I didn't quite believe it. I'm still not sure I do. I stare at the evidence, the published book, turning it over my hands. I find it odd promoting it, although I know that's an important part of an author's role these days. I have to remind myself why I wrote it, why it's important. I wrote this for a reason. It wasn't 'to get a book published'. That was just the by-product, however pleased I was to achieve it.

Remembering the reason

It's worth stopping and reflecting on our hopes. Are we seeking success as it is measured by human standards, or do we wish to honour God? Have the two got a little mixed up? God sees us, our intentions, our hopes, our desires to honour him. God values all these things. When we feel like we're fighting against circumstances, we can lose that sense of calling. It gets buried in difficulties and discouragement and disappointment. But it is still there – that gem, that hope. We can still retrieve it.

If we're struggling, this doesn't mean that we've 'failed' in our calling. God sees our attempts and God values them. We don't know the future; we don't know what seeds we sow; we can only aim to glorify God in the present. What God has placed on our hearts belongs to him. How it will be expressed in our lives, and where it will lead, is something we cannot always know.

I've grown to dislike the phrase 'God always has a plan B'. God is far greater than that. Life is complex, full of endings and beginnings. God's 'plan', I suspect, is that we should travel close to him at all times – whatever else may or may not happen. So often we get consumed by the map (or Sat Nav) instead of learning to relate to our travelling companion.

However much our circumstances change, they do not change God. They do not change God's faithfulness or love for us. Let's not be driven by the fear of 'failure' or the quest for success. Let's find a moment to remember why we do what we do. Let's take a breath of our original vision, then step into the future.


July 12th, 2015 - Posted & Written by Together Magazine