St Paul's Cathedral is looking for young choristers from all over the UK to form a Diamond Choir, which will take part in the Queen's Diamond Jubilee Celebrations.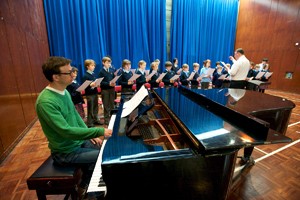 St Paul's Cathedral School Chamber Choir
Will Todd with the School Chamber Choir
Talented youngsters aged between 10 and 13 who regularly sing in a choir are being invited to apply for regional auditions - in the hope that they could become part of the Diamond Choir, which has been created to bring together singers from all the UK regions.
On June the 5th this 40-strong choir will be performing a brand new choral work written by British composer Will Todd for a special Service of Thanksgiving in St Paul's Cathedral.
Will said: "The new music I've written for the Diamond Choir and St Paul's tries to focus as much as possible on the beautiful voices we'll be hearing. A simple yet soaring melody that is both reflective and uplifting.
"It begins with the voices alone and then gradually the organ is added and the piece builds and swirls, hopefully echoing around the amazing acoustic of St Paul's."
The words were written by the Precentor of St Paul's, Michael Hampel. He said: "The words are based on a passage from the Book of Proverbs in the Old Testament of the Bible in which God – who is wisdom itself – talks to his people about the value of wisdom and truth in every aspect of our lives, regardless of who we are and what we do.
"In the passage, God says that even monarchs can only reign well and effectively if they use God's wisdom as their guiding principle: something which our present Queen has done all her life."
The Diamond Choir will be singing alongside the choristers of St Paul's Cathedral and the Choir of Her Majesty's Chapel Royal for this unique performance, which will be televised around the world.
March 20th, 2012 - Posted & Written by Claire Musters