The National Secular Society has spoken out against the Church of England's campaigns to get Chancellor George Osborne not to introduce VAT on alterations made to Grade 1 listed buildings, a proposal that was announced in the Spring Budget statement and one that would significantly affect the Church's 12,500 buildings.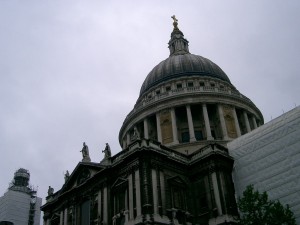 St Paul's Cathedral, London
Copyright edwin.11 (creative commons)
Until recently, maintenance to all Grade 1 listed buildings was covered under the Listed Places of Worship Grant Scheme, which helped to offset the VAT payable on repairs. Under the Labour Government this was set to continue until 2014.
Now, the Treasury has announced that it will extend the standard 20 per cent rate of VAT to alterations made on all Grade 1 listed buildings. The Church of England is currently responsible for around 45 per cent of these buildings in the country.
But the National Secular Society has accused the Church of looking for preferential treatment in asking for the 20 per cent VAT rate not to be introduced for places of worship. Speaking on their website, Keith Porteous Wood, the Executive Director said: "many churches have architectural and historical significance that is worthy of state support, but so are many secular buildings that are also not exempt from this tax responsibility.
Much of this privileged tax funding is for the benefit of parishioners rather than as a part of the nation's heritage preservation."
But in his letter to the Treasury, the Bishop of London points out that many church buildings are widely used by the community, from toddler groups to exercise classes for the elderly, all of which are open to the general public, rather than just church goers or Church of England members. In his letter he said:
"This is a real blow to communities who are seeking to maintain and develop their churches- including improved lavatory, kitchen, disability and energy saving facilities, to enable churches to be more widely used by the community."
The Church of England has launched an e-petition, with the aim of growing support against these proposals. The petition currently has 6,463 signatures, with a target of 10,000. MP Tony Baldry has also written to the Chancellor, urging him not to go ahead with the plans. The consultation period for these proposals ends on the 4th May.
April 9th, 2012 - Posted & Written by Riyaza Rodriguez