There is no easy way to talk about the pain of losing a child. It is a grief that remains largely unspoken of, and is utterly incomprehensible to a great many people. Whilst this silence may be respectful in nature, it has unfortunately served to leave those who have lost a child without the words to express and walk through that grief. We do not have the words to say, or support those, saying goodbye to a lost baby.
Saying Goodbye is a book for those who have lost a baby. It is not a script, or a guide on how you should feel. Rather, it is simply a story spread over 90 days of readings, that follows the grief and and support experienced in the wake of losing a baby.
Saying Goodbye is Zoe Clark-Coates story of grief, and of feeling utterly alone in her pain.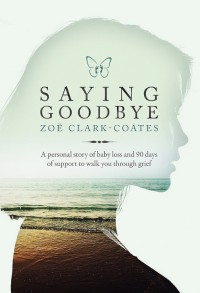 An award winning Charity CEO and Leader, Zoe is the co-founder of 'The Mariposa Trust' which counsels parents who are going through the exact same grief she did. The support offered by Zoe's charity reaches over 50,000 people each week, but for the many thousands who are feeling alone in their pain, Saying Goodbye is a book that shows, above all, that you are not alone.
Each of the 90 days' readings offers not only a ray of encouragement, but also practical steps towards walking through the grief. These daily tasks help to establish a way to express and understand the pain, but also to move through it and into healing. They are understanding, insightful, and experienced in that pain of loss.
Saying Goodbye is a book that speaks word of comfort and support into a grief that is often unrecognised. Whether you, or someone you know, has recently lost a baby, this is book to guide its reader through that pain. A soft spoken voice of compassion, as well as an understanding guide through those first unbearable days, Saying Goodbye is a wholly vital book for millions across the world.
Hear more of Zoe's story:
Saying Goodbye by Zoe Clark-Coates is avaliable to order now.
October 12th, 2017 - Posted & Written by Aaron Lewendon