As a survey shows a majority of opinion against it, the new Dean of Saint Pauls Cathedral has launched himself into the row over Gay Marriage by calling on the church to embrace it.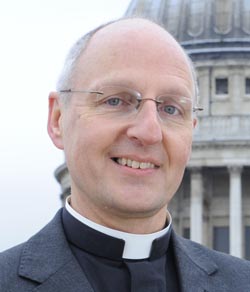 On the day that a poll shows seven out of ten people are against redefining marriage to allow same sex unions, the Very Rev Dr David Ison told the Times that Gay people could enter into a 'Christian marriage.'
He said: "You can regard two Christian gay people as wanting to have the virtues of Christian marriage."
"For Christian gay people to model that kind of faithfulness, in a culture which, historically, has often been about promiscuity, is a very good thing to do."
This comes as the first poll of public opinion shows that seven out of ten British people believe that marriage should be defined as a lifelong union between a man and a woman.
The ComRes poll commissioned by Catholic Voices comes a week before the Government begins its official consultation on the matter.
The online survey of more than 2,000 people also found that people think the state should promote marriage, and that most people support the idea of civil partnerships.
Austen Ivereigh, Catholic Voices coordinator, said: "The results show that most people support the idea of civil partnerships for gay people while being firm that marriage should remain between a man and a woman.
"The survey also shows that most people understand marriage to be a conjugal institution, which benefits children above all."
The results will be an encouragement to Catholic leaders who are making a concerted attempt to galvanise the faithful against the proposed move.
Over 115,000 people have signed an online petition against same sex marriages, which warns: "If marriage is redefined, those who believe in traditional marriage will be sidelined. People's careers could be harmed, couples seeking to adopt or foster could be excluded, and schools would inevitably have to teach the new definition to children."
March 8th, 2012 - Posted & Written by Simon Cross