Resurrect is a fast paced, action-packed and thought provoking novel that follows the escapades of Jet fighter Josh Logan.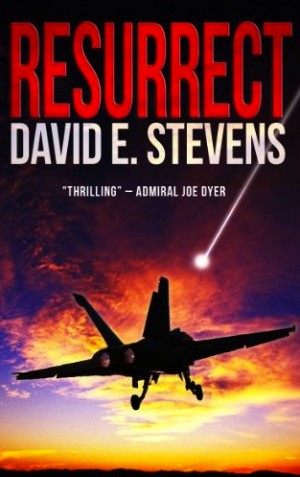 Opening with the main character's death and subsequent resurrection, the unique story mixes elements of philosophy and technology together. In his new resurrected body, Logan has a mission. He must save the world.
If this is all sounding a little far fetched and over the top, you'll be suprised to learn much of the story is scarily realistic.
The fact that the book has been written by a US Navy fighter pilot who served as the Strike Operations Officer for the Persian Gulf, makes it all the more believable. David E. Stevens describes the ins and outs of the US intelligence services and various aircraft in impressive detail. Drawing on his own experience as well as engaging in some heavy research has resulted in a book that educates and informs, but most of all entertains.
The storyline has been wonderfully fleshed out with a host of interesting characters (the head of the FBI) and unusual settings (the South Pole). The dialogue has been beautifully designed. Oftentimes it's fascinating and funny.
Avoiding the pitfalls of some Christian fiction books, Stevens neither patronizes the reader or asks characters to insert the gospel into every conversation. Sitting in the intersection between faith and doubt, Stevens draws on both elements to form a story that will surprise you at every turn. Faith is portrayed positively, rather than dominating the overall plot of the book.
Not only would the book make a superb Hollywood blockbuster, but it's also frighteningly plausible. The end of the world scenario is nothing like the hugely successful apocalyptic Left Behind series or the environmental emphasis of a film like The Day After Tomorrow. In the author's note at the end of the book, Stevens claims the concept he's developed is "not fiction". What is this scenario? You'll have to read the book to find out!
Reaching the end of the story is saddening. Like all good books, you don't want it to finish. But for those desperate for more, there is good news. A sequel is on its way. In fact we're promised an entire trilogy – great news for fans.
In a market dominated with fiction aimed at women, it's refreshing to read a novel that's unashamedly male focused. There's no doubt Resurrect is a page turner. One reviewer read the 400 pages in one sitting!
All in all, it's a superb work by a new and completely unknown author. If he continues to write as well as he has done in Resurrect, perhaps it won't be long before his novels are sitting next to Tom Clancy and Dan Brown.
August 16th, 2012 - Posted & Written by Sam Hailes