In Accidental Pharisees Larry Osborne reveals how some deeply challenging books and sermons aren't as helpful as they first appear.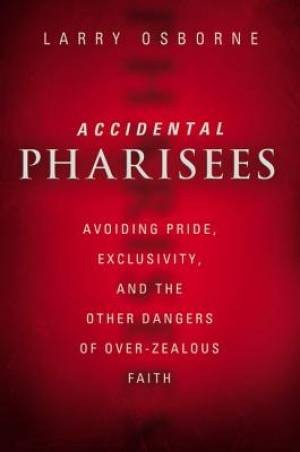 If you've read sentences that begin "every Christian should…" or become unsettled by those who constantly attack other people's theology, then you'll find this book refreshing and reassuring.
Taking time to emphasise the word 'accidental' in his title, Larry isn't criticising the Church, but rather encouraging Christians to exercise caution in their attitudes. Highlighting a number of common traps that cause Christians to embrace pride, readers will finish the book feeling convicted, but also encouraged.
Coining the phrase "gift projection", Larry explains how well meaning Christians can project their passion and gifting onto others. In doing this, they assume that in order to truly love Jesus, everyone must share their own passions.
Even areas that most Christians feel are of primary importance such as evangelism can be twisted to make people feel guilty. "Evangelists have a hard time remembering most people aren't wired like them", Larry writes. "[God] made half of us to be introverts. On purpose. It wasn't a mistake".
Larry points out that if God hasn't called you to a particular area of ministry, entering into it could prove disastrous. It's a teaching rarely heard in churches that emphasise constant activity and action from its members, regardless of their gifting.
Criticising overly zealous faith, Larry points out that spiritual arrogance and pride is at the top of God's 'hate list' in scripture. The author once told a group of men that God hated their pride more than their porn addiction. "Now, that got their attention!" Larry writes.
Controversially, Larry says Biblical knowledge should come with a "warning label…the more we know, the more we're tempted to look down on people who don't know what we know". He doesn't claim doctrine is unimportant, but he is concerned that some Christians are falling into the sin of pride and becoming obsessed with non-essential points of theology.
Bringing out thought provoking and original ideas, Larry asks if Christians should criticise people who window-shop for spirituality or churches that label themselves 'seeker-sensitive'. According to Larry, Jesus did more to attract crowds than shoo them away.
Larry claims the Christian community has invented new words like "radical", "missional", "gospel-centred" and "organic". Why? To make our own denomination stand out above the rest. He says these buzzwords "let everyone know that our tribe is far more biblical, committed and pleasing to the Lord than the deluded masses who fail to match up."
Larry encourages the reader to ask tough questions such as "Do I have my own 'thank God I'm not like them' list?" Becoming a Pharisee appears to be a lot easier than most Christians tend to assume.
Writing on "log-eye disease", Larry explains how we have a natural tendency to remember the worst in others and the best in ourselves. To demonstrate this he devises a test. Ask people to rate themselves above or below average in their ability to get along with others, work hard and intelligence. According to Larry, 100% of people will rate themselves as above average. Mathematically, this is impossible, yet this is how humanity thinks.
It's insights like this that make Accidental Pharisees highly challenging. But while there is much to convict the reader, the book is also a Godsend to anyone weary of trying to live up to expectations that seem impossible.
The book allows the reader to see where other Christians have acted as Pharisees. Many readers will be relieved to realise other people's expectations of them had been Pharisaic and not from God. It's not until you read a book like this you realise why your friend's obsession with correct doctrine had become tiresome, or why it's ok to not have the same passions and giftings as other Christians.
The challenge is in recognising where our own behavior has been over-zealous. As well as helping the reader spot where Pharisaic behaviour has been damanging, Larry helps the reader see their own faults. He does this by using real life examples, humour and honesty. It may contain challenging and even life changing content, but Accidental Pharisees is as easy to read and attention grabbing as your favourite novel.
August 28th, 2012 - Posted & Written by Sam Hailes