Wings Of Eagles is a dramatic film based on the true story of Eric Liddell and follows his life after the 1924 Paris Olympics.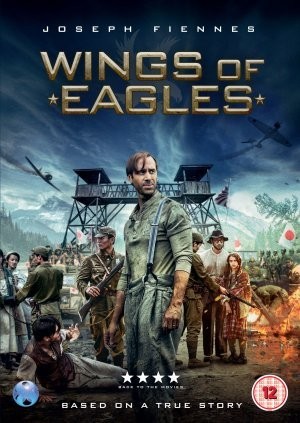 At the 1924 Olympics, Eric Liddell refused to run on a Sunday due to his Christian faith, missing the 100 metres race, but instead, as the fastest runner won gold in the 400 metres.
In this sequel to Chariots of Fire, we follow Eric Liddell's life after the 1924 Olympics, which sees him working as a Christian missionary in China (where he was born), to teach local school children and preach the Gospel. In 1937 Japan invades China, Eric sends his wife and daughters to Canada while he stays in China.
The Japanese capture Eric and others at a wedding and send them to an internment camp. While in the camp Eric continues to look out for his fellow inmates and put others before himself, this is evident when the commander challenges Eric to a race and provides food for him, which he gives away to others. Throughout the time in the camp, we see Eric's Chinese friends smuggle in food for them and also help a prisoner escape. Things start to get worse in the camp, the Japanese become more violent and Eric's health gets worse. Eric challenges the commander to another race to allow the medicine to be brought into the camp. What follows is intense and emotional.
This film is very dramatic and will have you on the edge of your seat with the gripping story, that is fantastically directed and produced. The cinematography is superb and helps give the film a historical feel and is one of best historical films in terms of story and production.
Joseph Fiennes is just fantastic and perfectly cast as Eric Liddell and really carries the film with a believable and strong performance. His performance is a wonderful portrayal and a real dedication to the man that has inspired so many.
We see Eric's dedication to Christ throughout the film, and he stays strong and dedicated to Christ even when facing death. We see him live out his Christian faith, always putting others first and teaching others about Christ. Though the film isn't preachy, it makes it accessible and does give a glimpse into the life of a real-life Christian who has faced hardship.
Wings Of Eagles is a dramatic historical film, that is violent in places and is quite emotional and sad but shows a man dedicated to his Saviour no matter what happens to him.
Wings of Eagles it available to buy from Eden.co.uk now.
This review originally appeared on The Christian Film Review.

April 16th, 2018 - Posted & Written by Laura White