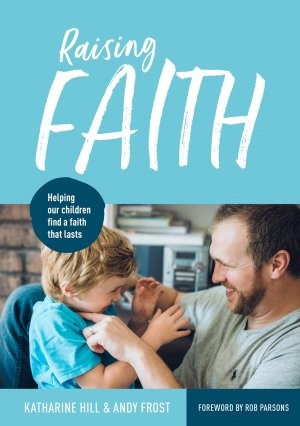 A friend recently said to me that from the minute you announce your pregnancy, the world and his wife are ready to offer advice. From your own parents to your Great-Aunt Maude to the person you've never met before at the bus stop. And let's not get started on internet forums. Everyone has an opinion and more often than not what one person says is the polar opposite to the next person.
All parents want their children to grow up to be healthy and happy, plus, Christian parents want to find a way for their children to grow in faith and love God. How then can they wade through the quagmire of well-intended but oft-frustrating advice to find anything of real value?
Who better to enter the fold than Care for Family's Katharine Hill, author of 'Left to Their Own Devices' and 'If You Forget Everything Else Remember This - Parenting in the Primary Years' and Andy Frost, director of Share Jesus International and father of two young daughters.
Raising Faith is full of stories and encouragement to help parents, at any stage of their journey, feel enthused and confident nurturing their child (or children) in faith.
Packed with bite-sized articles and helpful ideas, the authors have compiled this book with busy, time-poor parents in mind. It's not a tome full of intimidating how-to's and guilt-inducing admonishments. Instead, parents can enjoy challenging, inspiring, hopeful and practical guidance.
Described by Rob Parsons, international speaker on family issues and the author of many parenting best-sellers as 'low on guilty and high on practical advice' this book makes a wonderful addition to any parents reading list and I am certain it would be a welcome present to any parents-to-be.
Raising Faith is available now from Eden.co.uk
June 12th, 2018 - Posted & Written by Laura White