Each day, teenage girls are bombarded by messages.
To be thinner. But not too thin.
To be pretty. But never conceited or proud.
To achieve great things, but not be bossy or too ambitious.

From song lyrics to TV adverts, blogs to Instagram. Is it any wonder our teenage girls are exhausted, stressed and struggle with self confidence and belief?
We should be building up our young women of faith. Empowering them to believe that they are more than what they think when they look in the mirror. That their value doesn't come from grades, body type, past or likes on a social media post.

They are more than just pretty.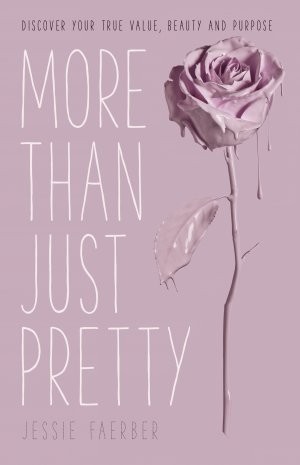 More Than Just Pretty is an impassioned and empowering read from youth minister, Jessie Faerber. Self-described as a 'normal girl' in her introductory letter, actually she's pretty extraordinary! She is the founder of 'Belle Ministries' which is passionate about girls realising their true value, beauty and purpose through workshops in schools and youth clubs. She is enthusiastic about journeying with girls, being real and authentic with her story.

More Than Just Pretty is a practical, interactive read for teenage girls, encouraging them to slow down, take their time and work through the book with a journal and pen, as they explore areas of value, beauty and purpose, answering questions 'Am I… ?'

A gentle and encouraging read, Jessie writes as if she's your best friend offering advice and guidance but also offers words of caution and challenges the reader to step out their comfort zone, going a day without wearing makeup or deactivating their Instagram account for a period of time.

Complemented with inspiring quotes from Helen Keller, Babe Ruth and my heroine, Brene Brown. This is a book that can be picked up and dipped into at times of low self-belief and doubt.

With endorsements from author and Youthscape director, Rachel Gardner and author and charity founder, Meg Cannon, this is a must-read for young girls.

More Than Just Pretty is available to buy from Eden.co.uk today.

You can follow the movement using hashtag, #MoreThanJustPretty
June 29th, 2018 - Posted & Written by Laura White