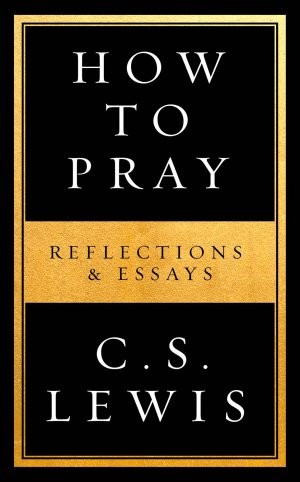 This little book is packed full of wisdom to help you unpick some of the tricky questions that can come up when it comes to prayer.
I've not read a huge amount of C.S Lewis' work so this is a great place to start as you'll find short pithy chapters each headed with a question. Including things such as:
Why Make Requests of God if He Already Knows What We Need

Can Prayer Be Proven to Work?

Do Our Prayers Depend on How Deeply We Feel or Mean Them?

How Do We Pray Whilst Grieving
What I liked about this book was Lewis' approach to these topics. He was humble and ready to admit when things could only be resolved by faith and not fact. He challenges different ideas around prayer and does so with a heart for the everyday Christian looking to connect with God in an authentic way. He writes personally and doesn't shy away from the areas of prayer which have either challenged him or have been subject to challenge and I find that refreshing. It also means he tackles some big questions with thought and grace, I particularly found the opening chapter around Can Prayer Be Proven to Work? insightful as well as thought-provoking.
What's great about How to Pray is that you can dip in or look at a particular topic if it's something that you're struggling with or interested in. There's no doubt it'll give you food for thought and acts a springboard to go off and think things through more - Lewis is definitely not writing to give you an exact answer but to move you to think deeper for yourself.
If you've read a lot of his books before you may encounter familiar content but I've no doubt you'll enjoy the reminders as well as new passages or thought from the collected letters as well as well known and much-loved Mere Christianity, Screwtape Letters and Four Loves.
If you've never read Lewis before then give this a go and see what you think! I can guarantee you'll want to read and then re-read so that you can truly appreciate his thoughts and reflections on the huge and vast topic of Prayer.
How to Pray is due for release in June 2018 and is available to pre-order from Eden.co.uk
June 12th, 2018 - Posted & Written by Anna Hockley