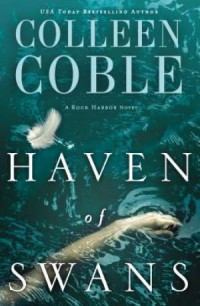 Thriller romance. It sounds like an oxymoron, doesn't it? But with the phenomenal success of Paula Hawkin's 'Girl on the Train' and Gillian Flynn's 'Gone Girl' (which still haunts me with questions of 'but what if that actually happened?') thriller romance fiction is dominating the fiction charts right now.
Into that fold comes bestselling Christian author Colleen Coble. Her new novel, Haven of Swans takes us back to Rock Harbor where a desperate young mother is in need of protection.
Stories of marriage, deceit, anger, hope and even amnesia are woven together in a captivating tapestry that ensures the residents of Rock Harbor will never be the same again.
The fast paced story leads readers through a series of grizzly murders, seemingly conducted by a "missionary killer", determined to rid the world of his perceived 'evil'. If you want to think about it in terms of TV crime dramas, think more Broadchurch than Death in Paradise! These crime scenes are not for the fainthearted.
Like all good thrillers, Coble lets the reader figure bits out for themselves along the way. Offering back stories that the other characters aren't privy to. But just when you think you've got the last piece of the puzzle and you're ready to make your arrest, the plot twists and you're left thinking "wait, what just happened?" (I actually said that out loud at one point and then had to go back and re-read the last few paragraphs to check I hadn't missed anything).
You'll need to pay attention, the character list is extensive, with what felt like a new police officer every other page to contend with. Not only does this make the story convoluted at times, it also means it's difficult to connect with them all, so when a minor character dies (as they do in these sorts of things!) it almost passes by as extra-narrative rather than a impactful storyline and a character to mourn.
Overall, Haven of Swans is summer reading at it's best. Captivating, illuminating and surprising enough to keep you hanging on to the last page. Just maybe don't read it right before bed.
June 29th, 2017 - Posted & Written by Laura White