A series of 'faith debates' organised by academics and politicians are set to begin next week, with an examination of religion and identity in a 'super diverse' society.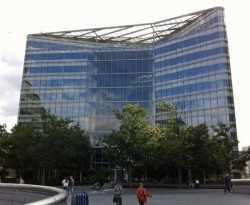 Equality & Human Rights Commission
Photograph ©Steph Gray
The first in a series of debates, the topic will be discussed by the Attorney General, Dominic Grieve, and Trevor Philips, the chair of the Equality and Human Rights Commission and former Chair of the Commission for Racial Equality.
Presenting the latest research findings will be Dr Therese O'Toole a senior academic, and expert in religion and society, and Professor Kim Knott, a director of research at the Arts and Humanities Research Council (AHRC) and an expert in media portrayals of religion.
The four will examine what it means to be 'British' in today's society, and what this means for religion, in terms of identity and practise.
Future debates will include the question: "What's the place of faith in our schools?" That debate will feature prominent atheist Richard Dawkins, Professor of the Public Understanding of Science at Oxford University.
Professor Linda Woodhead of Lancaster University who organised the debates along with former Labour MP Charles Clarke said: "This is a completely new initiative, to raise the level of conversation about religion in public life, and introduce the latest research findings."
The first 'Westminster Debate, takes place on Wednesday the 8th of February, at 5.30 pm, at 61 Whitehall, London. Visit the 'Religion and Society' website to reserve a place.

January 30th, 2012 - Posted & Written by Simon Cross