Leading clergy shirt manufacturer Reliant today announced the launch of a new line of Fairtrade and Organic certified cotton shirts.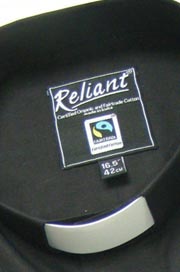 Reliant also hope to gradually transition their entire collection to Fairtrade certified textiles.
The company has also pledged to give a percentage of the wholesale price of every shirt sold to Tearfund, a leading Christian charity committed to ending spiritual and material poverty.
Although the news comes during Fairtrade fortnight, Reliant's owners, apparel company HR Denne, say the move has been planned for sometime.
CEO Brian McKee said: "Quality is vitally important to us. That is our non-negotiable. We had to find manufacturers and suppliers who were able to provide us with the right standard of cloth, manufacture to the highest standards, and deliver shirts according to our exacting specifications."
"Sustainability is crucial, we have spent a long time building up relationships with suppliers, which we know will last the course. Our dealings with manufacturers have always been based on the idea that all workers are treated with respect and properly looked after."
"What Fairtrade means for us, is that we can now demonstrate to our customers, who are rightly concerned about the ethics of clothing manufacture, that our standards are every bit as high as theirs."
"It is great to be able to bring these shirts to market during Fairtrade Fortnight, at a time when everyone is being encouraged to 'take a step' for Fairtrade."
Andrew McCracken, Tearfund's UK Director said: "We love to think that clergy will be wearing Fairtrade shirts and helping to tackle poverty through churches around the world at the same time. This is a great partnership, and we hope everyone wearing these shirts will be blessed!"
Brian McKee added: "This is not just about selling shirts, this is about all of us doing what we can to see God's kingdom revealed on earth. We've been blessed with the opportunity to make great clergy shirts, and we're going to make the most of it."
Reliant's annoucement follows that of competing clergy companies Butler & Butler and Just Clergy Shirts who have already moved their stock to include 100% Certified Organic Fairtrade Cotton.
March 6th, 2012 - Posted & Written by Sam Hailes