London Church Leaders have joined forces with the Evangelical Alliance to organise a special hustings, that will allow Christians to grill four of the Mayoral candidates.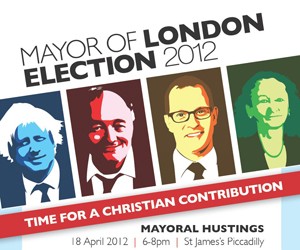 The hustings will take place at 6–8pm on 18 April at St James's Church, Piccadilly. Mayor Boris Johnson, former Mayor Ken Livingstone, ex police commisioner Brian Paddick and Green Party member Jenny Jones, have all confirmed they will attend.
The Reverend George Pitcher, former advisor to the Archbishop of Canterbury and religion correspondent for the Daily Telegraph, will chair the debate.
The Rt Revd Peter Wheatley, Bishop of Edmonton said: "This is a great opportunity for churches to engage with the mayoral candidates and hear them respond to our questions and concerns. It will help us make an informed and effective choice for mayor when we vote on 3 May."
The Reverend Lucy Winkett, Rector of St James's Piccadilly, said: "We are delighted to be hosting this live debate on the issues of the day, affirming the vital contribution people of faith make to public life."
There will be plenty of opportunities for the audience to put their questions to the candidates, and questions can also be submitted in advance.
Daniel Webster, parliamentary officer for the Evangelical Alliance said: "This hustings is a unique chance for Christians to air their concerns about our capital city to the four main candidates for London mayor.
And a good showing on the night – the church can hold 600 people – is a great way to show the mayoral office that Christians care about London and want to be at the heart of making this city a safe, tolerant and thriving place to live and work.
Church groups should come and give the candidates a friendly grilling to see if they are building the concerns of Christians into their plans for the next four years."
March 21st, 2012 - Posted & Written by Claire Musters