Steven Pienaar's late equalizer for Everton in their thrilling 4-4 draw with Man Utd this weekend, not only kept Man City's title hopes alive but also kept God in the footballing spotlight.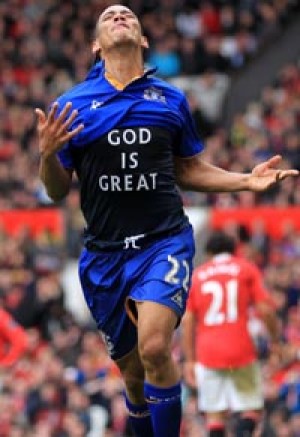 Footballer Steven Pienaar celebrates his late equalizer
The plight of Bolton midfielder Fabrice Muamba who suffered a cardiac arrest last month during an FA Cup match against Tottenham, leading to the Sun having the words- "God is in control" on their front cover, and Aston Villa Skipper Stilyan Petrov being diagnosed with Leukemia, has got football fans thinking about God.

Prayers have been uttered for both men across the World as soccer lovers from Britain to Brazil stood with the two stricken heroes.

Then, after scoring an 85th minute equalizer the 30 year-old South African midfielder, currently on loan with the Toffees from Spurs, pulled up his shirt to reveal the words- " God is great "- a gesture Pienaar has done on more than one occasion.

Pienaar has experienced God's greatness in his own life- growing up in Westbury- a dangerous township on the edge of Johannesburg, where gang violence, drug dealing and shooting were rife, he used to watch television on the floor rather than the couch, in case he got shot.
He told an interviewer: "One thing that sticks in my mind is watching television on the floor. We had a couch, but I wasn't allowed on it, because you never knew when a bullet was going to come flying in through the window. If you were on the floor, you were below the level of the glass and safe. If you were on the couch you were taking your life in your hands, and there were stories of people who had been hit by stray bullets."

He also lost his best friend due to the violence there; but God protected him from the daily dangers he faced there and his mothers' influence, hard work and faith saw him become a star who is ready to acknowledge his gratitude to God.
April 24th, 2012 - Posted & Written by Hefin Rhys Jones