Looking for a Christian alternative to Horrible Henry? Well I think I've found them in Rebecca Parkinson's new children's books... let me introduce you to Harry & Daisy.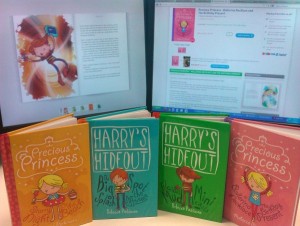 The Harry & Daisy Books standing on my desk.
These adventurous kids love to have fun, and that's why I love these books. I've read many Christian children's books and more often than not the Bible story/Christian moral feels like the author has hammered it into the narrative so hard that it sticks out like a bent nail. But Rebecca Parkinson's stories flow like running water.
Harry & Daisy are normal kids with normal lives in normal situations; Harry loves getting muddy, Daisy loves the beach; Harry doesn't like being lonely, Daisy gets upset when her present is outshone. When they have a problem they open the Bible their Granddad gave them and are transported into an ancient story.
Rebecca's writing style is very readable and very imaginative; Harry listens in on the disciples discussing how each of them first met Jesus; Daisy sits next to a little boy who decides to give his lunch to Jesus and then sees an amazing miracle. Harry's pet cockroach dies, but then he sees Martha & Mary's tears turn into joy as Jesus calls Lazarus out from his grave; Daisy suspects her friend has stolen her favourite necklace, but then learns that forgiveness is better than anger from how Jesus treats his friend called Zacchaeus. At the end, Harry & Daisy put what they've learnt into practice and discover the power of living like Jesus. Plus, the Bible verses are given to encourage children into opening their own Bibles and going on their own adventures into scripture.
As I've already said, I'm very impressed by these creatively crafted stories. But what makes them better than Horrible Henry? Well, I think the answer's partly in the quality of the book. With beautifully illustrated covers and illustrations on every double page spread, children's eyes are treated to bright scenes and friendly faces; reminding me of 'Diary of a Wimpy Kid'. And they're are hardbacks too, which mean children's hands are treated to sturdy covers with glossy, thick paper that makes the words and pictures really stand out.
Currently, Harry's Hideout & Precious Princess stories make for a mini library of four books each containing two adventures. And don't let the covers define the reader's gender; the stories inside will appeal both to boys and girls. I read through a story twelve pages long in just under ten minutes making them ideal bedtime reading for young children aged 4-7. If your children devour the Horrible Henry books all on their own, they won't need any help reading these. Plus, I think these colourful books would look fantastic on a Kid's Club/Holiday Club prize table!
Big thumbs up from me... but give the book to a child for their opinion and let us know what they thought.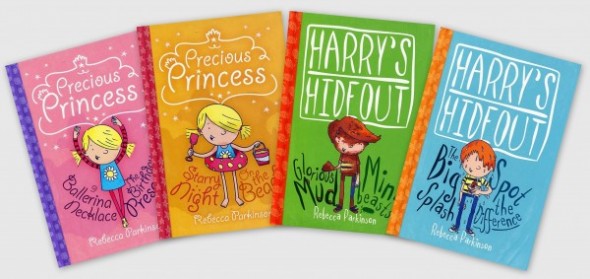 June 9th, 2013 - Posted & Written by James Warwood