Max has a pastors heart, a storytellers notepad and a strong Texas accent. But how much do you know about the man, for example, that he is also a bestselling children's author? And his children's writing is being distributed to orphans in China?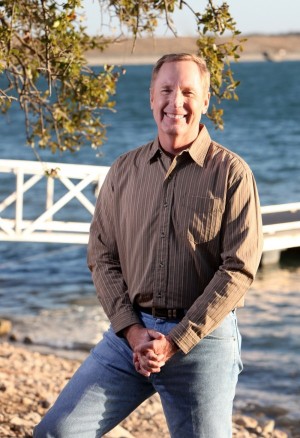 Bestselling author and pastor Max Lucado
taken by Karen James
1. Max's very first book, 'On the Anvil', was rejected by 15 publishers before Tyndale House Publishers agreed to give it a shot
2. Now over 80 million of his books have been sold, having been translated into 41 languages
3. He first discovered his writing skill through writing the weekly church newsletter, where he harnessed the powerful link between pastoral ministry and storytelling
4. Max was dubbed "America's Pastor" by Reader's Digest
5. In early 2007, Max was diagnosed with atrial fibrillation (an irregular heart beat)
6. Max often gives 100% of the royalties of his books to charities, such as World Vision, Compassion & others
7. A census in 2000 documented that 95% of the population of Texas ticked the Christian box (where Max pastors his church, Oak Hills Church in San Antonio)
8. Max's favourite book isn't a book for adults – it's a children's book!
'You Are Special'

"One of my favorite books that I ever wrote has a really wide distribution in China and in other communist countries, where traditionally the Bible is not taught."
With no scriptural references and no mention of 'God', the heart-warming story is a parable about a woodcutter who creates wooden people and how the down hearted Punchinello discovers his maker. I first heard 'You Are Special' one Sunday morning when a father read the book with his young son on his knee. Everyone in the congregation was blown-away by this simple-yet-profound tale with an enduring message to spend time with your creator (even my 16 year old, longhaired, teenage self).
Amazingly his book has spawned a powerful mission, "there is a ministry in China that exists to distribute that book. I didn't even start that ministry, but it is distributed throughout the provinces of China in orphanages to children who are born without any awareness of who their parents are and what their purpose is."
Other Brilliant Children's Books by Max:
'Hermie & Friends Books' – a collection of stories about Hermie and his friends, each explaining a simple Christian truth or moral responsibility for younger children (for 2-4s).
'The Boy and the Ocean' – his newest story about creation's ability to reflect our loving creator (for 4-8s).
'The Oak Inside the Acorn' – a story about discovering the special person God has put inside us, and helping them grow (for 4-8s).
'Coming Home' – a story about being shipwrecked (the human condition), the captain's promise (heaven) and waiting for his return (for 4-8s).
'Just in Case You Ever Wonder' – a story which beautifully illustrates a parent's love for their child (for 4-8s).
'The Crippled Lamb' – a story to help children understand that everyone is different, and God has a unique plan for their lives (for 4-8s).
'The Wemmick Books' – a collection of stories about the lovable Wemmicks and how they discover more and more about their creator, including 'You Are Special' (for 4-8s).
'Grace for the Moment, 365 Devotions for Kids' – taking his bestselling devotional, 'Grace for the Moment', and connecting the life changing concept with a child's eye, mind and heart (for 8-12s).
27 years of writing books means this list could go on and on. To browse through all of Max's children's books check out the Max Lucado Department.
May 18th, 2013 - Posted & Written by James Warwood