This Sunday I got to experience the Jesus Storybook Bible Animation for the very first time as the children sat down on their mats eager eyed and ready to see a moving version of their favourite children's Bible – The Jesus Storybook Bible.
We were treated to the gospel story of Jesus and the little children. Narrating the story, David Suchet carefully explained how Jesus loved the children and wanted them to come to him, even when the disciples held them back.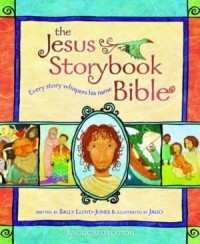 Each frame of the animation reflected the story printed in the book, with moving characters and a distinguished narration from everyone's favourite detective Poirot – David Suchet.
Though the visuals may be less than 'all singing all dancing', the simple and effective 2D narrated animation is charming and reflects sensitively the nature of its original source.
The beautiful illustrations are taken from The Jesus Storybook Bible, by narrator Jago: a resident of Cornwall and, in my opinion, one of the most outstanding illustrators of children's books.
Teaching Children the Whole Bible Narrative
You may have seen the DVD animations before as they're a feature of The Jesus Storybook Bible Deluxe Edition. But now, Zondervan have brought out four separate volumes so you can easily divide the stories up; making them easy for watching in Sunday school or at home.
Each volume contains at least 10 Bible stories taken directly from The Jesus Storybook Bible. Each lasts about an hour and take you from the beginning of creation right through to John's revelation.
What's so helpful about The Jesus Storybook Bible is its portrayal of the whole picture of the Bible; each episode pointing children to the heart of the message of Jesus, wherever they are in the Bible.
Ways You Can Use The Jesus Storybook Bible Animated DVDs
• As a Sunday school aid/resource
• As a clip to show in an all age service
• Bible stories to use in a holiday club
• Something for the kids in that you know will be helpful and entertaining
• Alongside The Jesus Storybook Bible to remind children what they've read
Watching their faces on Sunday confirmed for me that, not only do these animations entertain; they teach children the timeless truths about God's word and what Jesus came to do for them.
May 12th, 2013 - Posted & Written by Anna Hockley