The National Trust are set to review a set of materials which give a Creationist account of when and how the world was formed – after complaints from secularists.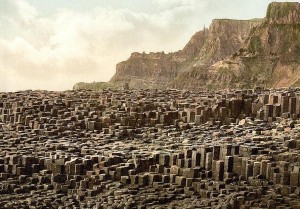 The Giant's Causeway is at the centre of a row over Creationism.
The materials are part of an exhibition, in a new visitor's centre at the Giant's Causeway, a UNESCO World Heritage site, and offer conflicting opinions concerning the formation of the world – and the consequent development of the unique rock formation on the North Antrim coast.
The Trust which operates the new visitors centre sparked some controversy when it included a 'Young Earth Creationist' viewpoint, that the earth was created approximately 6000 years ago.
Curators noted that: "Some people around the world, and specifically here in Northern Ireland, share this perspective."
Northern Ireland is well known for the high proportion of Christian self-identification amongst its population.
But the exhibition drew scorn from secularists who called the inclusion of creationism in the exhibition, a "grave error of judgement".
The exhibit includes the note that: "creationists today have an understanding of the formation of the earth which is different from that of current mainstream science".
And it continues: "Young earth creationists believe that the earth was created some 6,000 years ago. This is based on a specific interpretation of the Bible and in particular the account of creation in the book of Genesis… Young earth creationists continue to debate questions about the age of the earth."
But scientists, including the noted Atheist Richard Dawkins claimed the inclusion was ridiculous. Dawkins told the Belfast Telegraph that he felt it was regrettable that the trust had "paid lip service to the ignorant bigotry".
Now the National Trust, which says that over 25,000 visitors have been to the centre since it opened at the beginning of July, says it will review the controversial exhibit.
A spokesman said: "Having listened to our members' comments and concerns, we feel that clarity is needed.
"There is clearly no scientific debate about the age of the earth or how the Causeway stones were formed.
"The National Trust does not endorse or promote any other view.
"Our exhibits, literature and audio guides for visits to the Causeway stones and this renowned World Heritage Site all reflect this.
"To ensure that no further misunderstanding or misrepresentation of this exhibit can occur, we have decided to review the interpretive materials in this section."
July 20th, 2012 - Posted & Written by Simon Cross