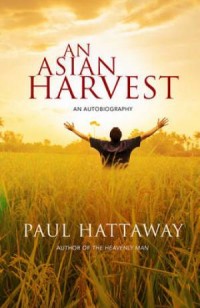 Paul Hattaway was a high school dropout from New Zealand. He first met Brother Yun in the late 1980s and went on to extensively travel throughout Asia in 1991.
He's also the co-author of the classic biography, The Heavenly Man. For a long time, The Heavenly Man, released in 2001, was a staple on any biography buyer's bookshelf. The awe-inspiring testimony of Chinese Christian Brother Yun has touched and blessed many people in the last 16 years. Despite his weakness and flaws, Brother Yun was a man who walked in God in faith and humility, a shining example to Christians the world over. It has since sold over one million copies and been translated into nearly 50 languages.
Paul Hattaway is a prolific writer with titles including Back to Jerusalem, Peoples of the Buddhist World, Project Pearl and Operation China. This year, he releases his own autobiography: An Asian Harvest.
"A waste of oxygen", according to his high school principal, An Asian Harvest is his gripping testimony, in which Paul shows how God took a hopeless life and used his transformed life to shake the nations of Asia with the Gospel of Jesus Christ.
Paul is the Director of Asia Harvest - an inter-denominational Christian ministry working in various countries throughout Asia. Asia Harvest have provided more than ten million Bibles to persecuted believers, and supported hundreds of Asian evangelists among unreached people groups.
An Asian Harvest is available now.
July 7th, 2017 - Posted & Written by Laura White