Premier Christian Media have launched a new website, New Media Centre of Excellence (NMCE), which is specifically aimed at equipping churches and Christian organisations so that they know how to make the most of new media.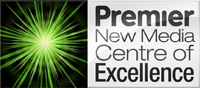 The group, which owns Premier Christian Radio, Premier Gospel Radio and magazines Christianity and Youthwork, believe that the site will envision those in the Christian community, and open their eyes to what can be achieved through new media. They also want the site to work as a networking system, so that new media projects and organisations can connect with one another.
One contributor to the site, Gillian Scott, said: "Those of us who are familiar with Twitter, Facebook, YouTube and the Blogosphere know how powerful social networking and digital media can be and if churches and Christian organisations want to reach out effectively to a huge chunk of the population, then they need to learn to be savvy in this arena."
The site provides resources and articles on subjects ranging from web design, e-marketing, fundraising and e-commerce to new media law. It also gives details of awards, conferences and events held by the Premier Group, including free events across the country for church leaders and other individuals who want to "harness the power of new and emerging media for the Kingdom of God".
There are also details of projects Premier are involved in (often in partnership with other Christian organisations) such as child internet safety campaign Safetynet: Protecting Innocence Online.
NMCE is also asking for people to share stories, advice and knowledge on the site. Sean Skinner, project manager of NMCE said: "We're asking for the public (and not just the Christian public) to get involved because we want to equip users of the site in the best possible way."
To visit the site click here.
March 6th, 2012 - Posted & Written by Claire Musters