In 1904, 56 per cent of children and young people went to church. Today that figure stands at 4 per cent.Reaching Young People Cover

39 per cent of churches have no one under the age of 11.

49 per cent of churches have no one between the ages of 11 and 14.

59 per cent of churches have no one between the ages of 15 and 19.

These are a selection of the statistics regarding the state of Christian youth work in England, presented by experienced youth worker Alex Taylor in his new book Reaching Young People: New ideas for your youth ministry.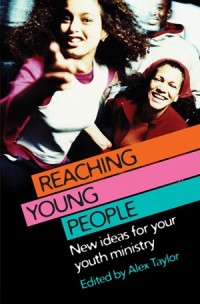 Few, if any, of these figures will come as a surprise. It is no hidden fact that, in many areas of the UK, the Christian church is not only out of touch with youth culture and considered irrelevant by young people, but is also failing in its efforts to relate to the 18–30 generation.

On the face of it, it's a gloomy picture, but look harder, says Alex, and you can find real beacons of hope—beacons that other struggling youth leaders can light in their own areas.

Alex presents ten short case studies, written by different leaders of youth work in England and Wales that are producing results. Gone are the days, for many churches, when they could create a youth work out of the families of church attendees and their friends. Today, churches need to be active in places where the young generation can be found, in school or after school, on the streets or skate parks. They need to start where today's youth are spiritually, developing ideas to help them find a closer relationship with God.

All of the approaches described in this book have a relational focus. Some are simple in structure, such as the aptly named 'Hanging About Ministry' in Slough, where a team regularly go into schools to be available to chat to students. 'Celebrate Life' in Hull focuses on pupils whose lives are not celebrated by anyone else, offering chat and exploration of issues through a Christian lens.

'The Feast', which began in Birmingham, brings young people from different faiths together to share and discuss, with the aim of breaking down misconceptions and building trust. This approach has provided a credible way for other Christian churches to work with other faiths.

Other case studies consider the need to evolve expressions of church specifically for youth so that their distinctive life-issues can be made focal. Examples are 'ConfiDANCE' in Bristol, where the focus is on using contemporary dance as worship, and 'The Lab' in south Wales. There is also a discussion of the issues raised by the idea of developing a separate youth church within Messy Church, with its strong all-age ethos.

The message that comes through clearly is that young people are often looking for friendship—an extended family to provide help and guidance in a fast-paced, demanding and paranoid culture. In many cases, they don't get this at home or school, so where can they find it?

What they don't want is to be preached at. They crave relationship with people who are prepared to be honest about their own faith struggles and how they have seen God being active in their lives. It's not a surprising insight, but it's one that many churches need to embrace. Alex's latest contribution to the evolution of youth work is clearly a helpful guide to the way this might be achieved.

Read a sample chapter from Reaching Young People: New ideas for your youth ministry

Alex Taylor is an experienced youth worker and writer. He has been involved in youth work for almost 20 years in a variety of churches and settings. For twelve years, he worked for Scripture Union as an editor and creative developer. He has also written for Youth for Christ and Youthwork Magazine, as well as Scripture Union. He leads Curtains Up, a performing arts-themed residential for 13- to 17-year-olds.
This article was originally written by BRF Online
August 28th, 2015 - Posted & Written by The Editor