There are good presents and there are bad presents; the strange and the plain; the meaningful and the last-minute. Above them all, though, is the right present. The one item that perfectly encapsulates not only the person receiving the gift, but fills a need they never even knew existed.
Receiving the right present brings you that moment of acute realization. You suddenly understood that you are seen. That someone took the time and thought and attention to see who you are deep down, and then found a gift to match. On the surface it may not seem like much, but receiving the right gift can be utterly moving. At that moment, the gift itself disappears, and you feel like all you ever needed was to be seen.
(Admittedly, for me, it's then followed by the panic that the gift you bought could in no way be as perfect).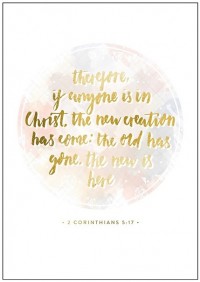 These gifts may not be the perfect gifts for everyone - but if just one of them proves to be the right gift for someone you know, then I'll be glad.
'New Creation' Print by More Than Gold Designs
We all have parts of ourselves we'd much rather leave behind. The promise of becoming 'a new creation' may seem the furthest thing from achievable. But by being reminded of it every day, it may just sink in. This A4 print by More Than Gold Designs is a beautiful reminder of that promise of having the slate wiped clean, of being a new creation.
Overcomer Magnet & Breathe Magnet by Preditos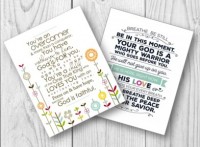 Sometimes it's the smallest gestures, the smallest tokens, that can have the biggest impact. These inspirational magnets may be small in size, but their messages can have a big impact. Whether someone needs reminding that God is with them, or that they just need to stop and breathe, these attractive magnets may just be the pick-me-up someone you know needs.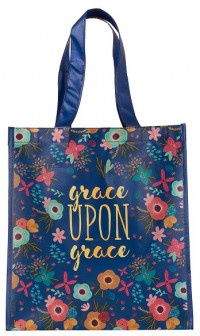 Everyone carries more than they should. Responsibilities, stresses, and even shopping. The chance to be reminded of what God continually offers doesn't need to be restricted to posters and magnets. It can be on something as simple as a bag to take to the shops so that, amongst the groceries, you can remember that you carry grace as well.
Proverbs to Live By Promise Tin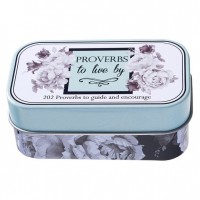 The one thing I often need most is guidance. Knowing where to go, and what to do, eludes me at every hesitantly-taken corner. Having a source of Proverbs can be of infinite value to someone as equally unsure of every step as me. A place to turn to for assurance and wisdom.
See Beauty in Each Day 28-Month Planner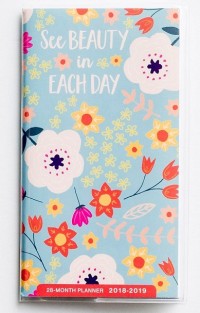 It can be easy to lose track of the important things in life. They just slip between the days, between the busyness and stresses. In those periods of life, a daily prompt to remind me to appreciate each day as a gift (as well as a space to plan and keep tabs on the busyness) might just be what is needed. A way to stop and look around once in awhile, and see the beauty that is there all along.
Q & A Bible Verse 5-Year Journal
How much do we forget of our lives? Getting swept up in what comes next often takes precedence over what has gone before. Forgetting the past means we forget how far we have come, and what God has done. This new journal is the ideal antidote to forgetting. Over 5 years, this diary gives you one question each day to think about per day. Some big questions, some small. Then, each year you revisit each question day-by-day and answer it again.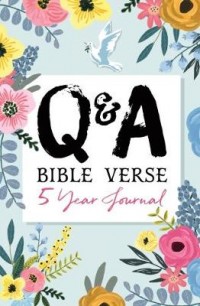 The best way to know how far you've come is to look back every once-in-a-while. This journal is here to help you do just that.
To disocver even more gifts that could be the right gft for someone you know, try the 'Christmas Gift Finder' in our Christmas store.

October 30th, 2017 - Posted & Written by Aaron Lewendon