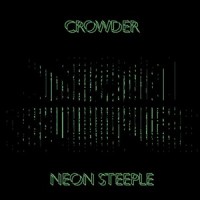 One of the biggest namesin Christian music has gone solo and invented a new genre - Folktronica. The result? Unanimously glowing reviews from both sides of the Atlantic. David Crowder has once again proved he's incapable of producing a bad album.

"Come Alive" manages to simultaneously drift into dup step and deliver a folky violin solo. Quite how the veteran worship leader manages to do this with such style is beyond most music commentators.

"Lift Your Head Weary Sinner (Chains)" is one of the stand-out tracks on the record. The blues guitar riff and thumping drum beat hold the verses down before giving way to a soaring chorus where Crowder chants 'If you're lost and wandering / Come stumblin' in like a prodigal child / See the walls start crumbling / Let the gates of glory open wide'.

"Come As You Are" may not quite equal the beauty of Remedy's "The Glory Of It All", but its a stunning piano ballad nonetheless and contains the poetic and worshipful lyric 'earth has no sorrow that heaven can't heal'. Crowder's cover of Hank Williams' "Jesus Is Calling" reveals his American South roots. "This I Know" follows in a similar vein.

'Aint no grave gonna hold me down' is a fantastic lyric in any song. But here in "Aint No Grave", Crowder has perfected the blend of acoustic guitars, gang vocals and strong drums. As an experienced musician, it's clear Crowder doesn't just know how to write a great song, he also knows exactly how to arrange and produce it.

By track 12 you'd forgive the record for dipping, but instead "You Are" is arguably the greatest song on the entire album. Here the electronic elements take pole position as an infectious riff carries the tune through the full 4 minutes.
June 26th, 2015 - Posted & Written by Together Magazine