If you've been a Christian longer than 5 minutes you've probably heard of Spring Harvest. 30,000 people attended the events in Skegness and Minehead this year.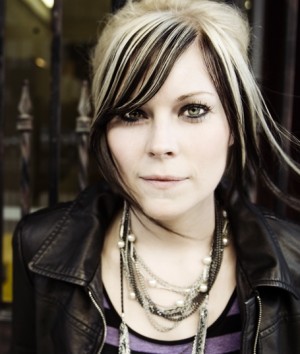 30,000 people attended the events in Skegness and Minehead this year. With a 30-year history, and an excellent reputation, Spring Harvest is always planning ahead to make sure each event is beneficial to the thousands of delegates.
In thinking about the worship, Vicky Beeching needed a song for Easter Sunday.
"Spring Harvest always falls over Easter and we always have big questions about what songs we're going to sing about the resurrection. There aren't that many contemporary songs.
"Obviously there's Happy Day but I knew I'd get to the event and not have enough modern songs, so I thought I'd write one myself."
The result was Death Is Beaten which can be found on Live Worship Actually alongside another new song from Vicky, Better Than Life.
Pop music
Although the singer tends to write congregational based worship songs, when it comes to her iPod there's a lot of variety and diversity.
"I'm a huge fan of Sigur Ros. I'm still listening to Coldplay's latest album quite a lot. Occasionally in my teens I played at summer camps with Marcus Mumford so I love Mumford and Sons."
Anything else? "Embarrassingly quite a lot of really commercial pop music," Vicky admits.
"It's probably not stuff one is supposed to listen to as a discerning musician but I'm a big fan of Katy Perry!" Vicky is honest about the way her own music is marketed, describing the Christian Contemporary Music (CCM) concept as "potentially a bit of a ghetto".
"This isn't true of the UK. It's mainly in the States where a decent sized demographic of families raise their children in virtual seclusion from the outside world through methods like homeschooling.
"They say 'we buy a Vicky Beeching CD instead of buying a Katty Perry or Jessie J CD'. They say 'you are our alterative because we want our children to listen to something positive, not something "worldly"'. This creates a bit of a ghetto and I'm very anti the Christian bubble culture.
I'm very anti the Christian bubble culture.
"I like to tweet about listening to Katy Perry and make it clear those things aren't wrong and we can break down the sacred secular divide which has in part contributed to the CCM bubble of culture."
When I put it to her that the CCM world may be coming to an end, Vicky seems sympathetic.
"Music written about God is great - I love lots of congregational worship albums. But if it's seen as a total alternative to 'secular' music, it becomes a bubble genre where people start to exist within a musical bubble, shutting out all non Christian artists. I think more and more Christians are realising the sacred-secular divide is pretty bogus and that God created all music to inspire us. The more people grasp that and begin buying a whole range of music, the less finances go straight into the CCM sector. So perhaps for that reason, among others, it is struggling."
Contemplative prayer
While some worship leaders have only ever written songs to God, Vicky began by singing about topics such as life and love at the tender age of 14.
Last academic year Vicky attended Durham Cathedral, going back to her roots, as she grew up in a traditional Anglican church in Kent, singing in a robed choir.
"The building is just amazing. I have a real passion for contemplative prayer and monastic spirituality."
"It's really nice to go to church somewhere where your genre of music is not played. So there's no way I could have ever been asked to help out because I wouldn't know what to do! I can't read music so I couldn't do choral stuff."
"I can switch off and not worry about the drum fill or wonder if they're going to sing a Chris Tomlin or Matt Redman song. People have suggested I could do some new settings of liturgy or mass settings to music which is an interesting idea but for the time being it's a meditative way for me to go to church and switch off."
It's refreshing to meet someone with a passion for both for the old monastic rituals and the fast moving world of modern technology. But the more recent developments in technology arguable pose a major threat to the ministry of many Christian songwriters.
Stealing music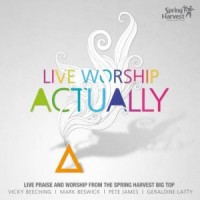 The latest Spring Harvest live album with songs from Vicky Beeching
Talking about the internet's impact on the music world, Vicky says she used to witness many being made redundant at record labels.
"People talk about the digital downloads impacting the industry but it's a very different thing to be there in person and see people lose their jobs. Landmarks in Christian music like the closure of the print version of American flagship magazine "CCM" and the reduction of the famous GMA Week in the States, mark the decline.
"I don't know what the solution is but the industry is waiting for a big breakthrough. I'm lucky because I have other interests and want to broaden what I do. But for people who just wanted to do music, many of them are falling on hard times because you can't really make a living now just doing music."
You can't really make a living now just doing music
Some high profile figures including musicians from Blur, Radiohead and Pink Floyd have argued that fighting file sharing is pointless.
Vicky disagrees. "It's almost the same as walking up to a musician and stealing their wallet. Even though writers only get a small amount of royalty payments through sales, when they all add up that's what keeps a lot of people paying their rent."
Open doors
Looking to the future, Vicky has lots of options regarding which direction her career will take. Many doors are currently wide open, including invitations from a variety of publishers. "I've had quite a lot of publishers approach me and say 'tell us what you want to write about and we'll publish it'. It's a nice position to be in but I'm still deciding exactly what I want to write about, and which topic to approach first. Perhaps worship leading or song writing or social media."
Could a move back to America be on the cards?
"No, I'm definitely here in the UK to stay. There was always something about America that felt temporary. I would never go back there to do full time music but I plan to go back occasionally to speak or do radio or TV engagements".
Like most Brits who have spent time in America, Vicky reminisces about the food. "It was probably one of the best things!"
"I'm a rubbish, rubbish cook! In America the eating out culture is really cheap. You can get really great healthy nice stuff for basically nothing. I really miss sushi. As a domestic failure one of the things I miss the most are drive-throughs that sell amazing chicken salads. Take aways in the UK don't tend to sell salads or healthy food - just fish and chips, Chinese, Indian or pizza."
I finish by asking if she has any advice for people wanting to move to America.
"Be prepared for your sleep to be totally messed up!" Vicky warns.
"The time zone thing is horrible. But people are so friendly so it definitely brings you out of yourself and makes you realise how chatty and warm Americans are."
Now happily settled back in the UK, Vicky is eager to keep one foot in the academic world and one foot in the media, as she feels a vocation to broadcasting as well as to studying.
So far she appears to be keeping her balance. Music may have taken a back seat for now, but her opinions on the industry and technology are continuing to inform and equip many Christians across the world. When the time comes for Christians to look back on the early adopters and promoters of social media in the Church, Vicky's name will be at the top of the list.
October 17th, 2012 - Posted & Written by Sam Hailes