If the thought of 'all age worship' makes you cringe, then don't worry, help is on the way.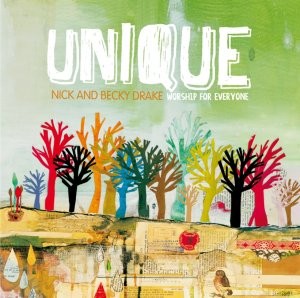 Nick and Becky Drake's third album follows in the success of Big Family of God and God Is Here.
The songwriting couple are based at St Paul's Church in Hammersmith, London. They also head-up worship at the New Wine LSE conference which is held every year at Shepton Mallet.
Both Nick and Becky are experienced worship leaders, but is it really possible to make worship music that both kids and adults will enjoy? That's always going to be the first question directed at an album like Unique.
Thankfully, the answer is a resounding 'yes'. The album is fun without being overly cheesy. It's also theologically solid without being complicated.
Opener Amazing is as well produced as any other worship song. The simple repetitive lyrics make it easy for kids to sing along with.
God is Love is similarly simple in lyrics, but the tune is original and catchy, making it a joy for any adult or child to listen to.
There's a couple of surprises thrown in like the short acoustic guitar led and massed children's choir renditions of Take The Plank Out and Forever. The little ditties are straight from scripture and very memorable, despite being just over one minute long.
Why does the album work so well? Apart from plenty of hard work from all those involved in putting the recording together, the answer may partly lie in the couple's recent shift of perspective.
"We used to talk about 'family worship' or 'all age worship'. We used to differentiate between 'kids' worship' and 'adult worship'. But now, it's time to bring down the barriers between what is considered 'for children' and 'for adults' and instead build the big family of God," they write.
By taking down these barriers, it seems to have left Nick and Becky with a renewed confidence to write worship music for everyone.
Before hearing this album, I thought it was practically impossible to produce a kids' worship album that would be considered enjoyable to listen to by a majority of adults. Unique doesn't just prove my earlier opinion wrong, it re-defines words like 'all age worship' or even 'kids' worship'.
In terms of albums that can be enjoyed by everyone in the Church, this is the best-produced, most interesting and well-written one out there. It's hands down the must useful (forgive me for using the term) "all age worship" CD you could hope to find this year.
It's difficult to predict how easy it will be to adapt these songs to Sunday morning services. But if you just need a new worship CD for the car, this is the release for you. Great music is great music, regardless of age.
Rating: 9 out of 10
August 14th, 2012 - Posted & Written by Sam Hailes