Tom Read's debut album topped the iTunes chart in Hong Kong just hours after my interview with him.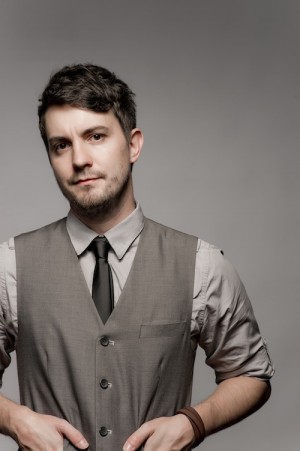 Even before the news came in, it was obvious that the 33 year old had been attracting plenty of attention not just with Compass, but his video for Do Not Stand At My Grave and Weep (see below).
"As soon as I wrote it I knew there was something special about it," Tom tells me. "It was different, catchy and meaningful. For me it sums up the whole album, both musically and lyrically."
Tom's journey to number one album is a fascinating one. Born in London, but moving to Hong Kong at the age of seven, the worship leader grew up in a Christian family. Throwing himself into church work it wasn't long before the young singer became a full time worship leader with The Vine Band.
Playing music next to the likes of Owl City, Delirious? and Tim Hughes followed. As did highly successful albums.
After nearly 10 years, the time came for The Vine Band to take a break. With core members moving onto other projects and The Vine Church moving into a new building, Tom says God was leading everyone into a different direction.
Compass
Reflecting on his journey up to this point, Tom says there were plenty of highs, and lows.
"I had some hard and frustrating experiences – particularly in my own life and what I felt my dreams were. I didn't see them happening as I wanted to. I got to a point where I felt so directionless in what I was doing that I made a decision to stop doing worship, quit my job and do something else."
But looking back, Tom understands that God had different plans! On the very day he made the decision to quit leading worship full time, Tom was due to meet up with the head of Kingsway John Paculabo.
"We knew who Kingsway was but we didn't know who he was. John turned to me and said 'I really believe in you and we want to work with you'. I said 'why are you in Hong Kong? Are you on your way to Australia or somewhere else?' He said 'no I'm here to meet with you, we've been hearing things about what you're doing out here so I want to offer you the chance to work with us.' It was totally out of the blue and one of those God moments."
God is that compass directing me even when I don't know what's going on.
To this day Tom doesn't understand how Kingsway came across him. The icing on the cake is that John isn't even supposed to sign artists. He apparently had some explaining to do once he returned to the UK. The astonishing sequence of events gave Tom his album title.
"I called the album Compass because it's such a reminder of what I use to direct my life. God is that compass directing me even when I don't know what's going on."
Do Not Stand At My Grave And Weep
The music video for Tom's first single has got people talking. How did it come about?
"I really wanted to do a video for it but the label said we don't have a budget for videos. You don't really make any money off music videos so I understood. It forced us to be creative. We didn't want it to be someone standing at a grave. That felt cliché and too heavy for the music. We just wanted to do something fun that cost no money, is a bit quirky and will hopefully leave people wondering how we did it. A guy I work with here came up with this idea of why don't we rotate the camera around and pull things in and out. It worked out really well.
"We went to this old industrial area in Hong Kong. I didn't want to do it in the typical touristy places. I wanted to do it somewhere that was a bit gritty. We thought it wouldn't be a problem but halfway through the caretaker kept coming up trying to kick us out. We kept going 'just 5 more minutes!' There was the added pressure of not just trying to do it in one take but we had someone hounding us off the rooftop. It was a fun experience."
As for the lyrics, there's a story there too!
"I love looking at old poems and celtic writings. I came across this poem on the internet and I didn't know much about it. I didn't know it was well known or popular, I just fell in love with it. What's cool about these lyrics is it's not necessarily written as a Christian poem but the lyrics can so apply to the resurrection."
"As soon as I wrote it I knew there was something special about it"
Tom says the song has a dual meaning. "I've had people emailing me saying my husband just died and this song is speaking so much to me. I've had other people say it's an amazing song about the cross and the resurrection. It's cool for people to have different experiences of the same song. I didn't want the music to be sad, I wanted it to be hopeful. That's why I contrasted it with up beat music on what is potentially a very dark subject."
Not only is the song typical of the rest of the album – upbeat, fresh and folky in sound- it's also the songwriter's favourite tune.
But Tom isn't just a one hit wonder. It's not a single that has reached number one in Hong Kong, but an album packed full of worshipful and slightly quirky songs.
Buy your copy here.
September 26th, 2012 - Posted & Written by Sam Hailes