Fike's debut album is a great collection of fresh songs, full of life and meaning.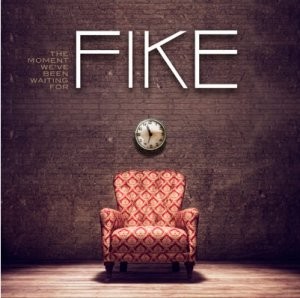 Dana Fike sings the title track which opens the album. Imagine Darlene Zschech from Hillsong joining an indy rock band and you're not far from the sound that's been captured.
The band's sound fits well within the adult pop / worship category that MercyMe and Casting Crowns fall into. With a catchy tune and lyrics that talk about "a day when all the world will see you shine", it's a great opening.
Fike is a husband and wife team plus band. Based at Vanguard Church in Colorado Springs, where they are worship pastors, the duo have put together a band to release this, their debut major label release.
Second song Grace sees Dana's husband Richie's lead the singing. Co written with Chris McClarney, there's a strong melody and Richie's voice is impressive.
The first two songs sound like two different solo projects, but third track Jehovah really sees the band come together. The drumming is more confident and both vocalists play to their strengths. Plus the lyrics are effective: "He's not a statue in a church / He's not a dream we're chasing after / He's here and now / Right where it hurts"
Wait is another welcome surprise. Ritchie's voice is remarkably similar to John Mayer's while the music is reminiscent of Jack Johnson or Jason Mraz. The summery acoustic vibe marks a welcome break after four fairly serious songs. The opening lyric "It never goes like I thought it should and that's a real nice thing" is quite poor, but the song as a whole really hits the spot.
Song of Sacrifice picks up where Wait left off. A bouncy rhythm kept by finger picking an acoustic guitar runs throughout the song. Richie leads the singing while his wife provides some gentle backing vocals. The rhythm and phrasing of the lyrics is catchy and meaningful.
Seeing as Ritchie has just led two reflective songs, it seems it's Dana's turn. Sadly Glorious You Are is a little too slow and simple to make much of an impact. Although the bridge does build nicely, the final chorus is still too basic to be memorable.
Behold Our God starts with a well executed guitar riff. It's easy to see why the whole band has been given songwriting credit. Each instrument keeps to its distinct parts as the most rocked up song on the album gets going. A funky guitar and bass keep the music interesting while the drums are let loose in the chorus for a powerful declaration of praise to God.
My Saviour Lord has a typical American pop sound to it. The chord progression in the bridge is particularly satisfying and Ritchie's voice is superb.
In This House starts with deep guitar tones and Dana's voice singing the moody verses. Ritchie's voice breaks in at the chorus. The contrast works well as the duo again play to their strengths.
Be Still is a deeply honest song while Outshout the Lies is a loud and passionate effort, although neither quite match the brilliance of some of the earlier tracks.
Penultimath song Chosen features some very clever instrumentation and Dana's voice sounds clearer than ever. Containing a beautiful melody and thoughtful lyrics, it's a stand out song.
Final track That's Why I Praise starts with a soft bluesy electric guitar before Ritchie's voice enters. It's a gentle finish to an outstanding album.
The Moment We've Been Waiting For is a great pop record just in time for summer. Full of original sounds and great new songs, there's something for everyone on the recording.
It's a rich album that will benefit anyone looking for new songs that will inspire, uplift and encourage. Almost all of the themes explored are bright and joyful.
Rating: 8 out of 10
June 26th, 2012 - Posted & Written by Sam Hailes