One of Christian music's biggest bands returns this year with their 7th studio album: The Hurt & The Healer.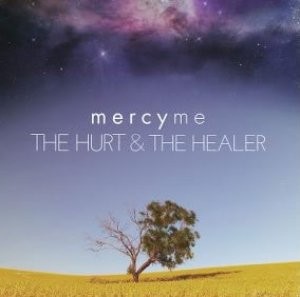 Having released consistently good albums since signing with INO records in 2001, the band have built up a massive American fanbase.
Despite numerous Grammy nominations, like many Christian contemporary artists, the band remain practically undiscovered in the UK. They came close at the beginning of the noughties with crossover single I Can Only Imagine, but it's unlikely this album will bring the band much more publicity.
Opener You Know Better sets the tone for the recording. It's a mid tempo pop tune with a production that emphasizes lyrics over musical creativity.
You Don't Care At All is a little more interesting and reminiscent of Royal Taylor with a genuine funk feel.
A great piano sound does most of the work in the verses before the electric guitars kick in and vocalist Bart Millard goes up the octave for the chorus of: "All of my yesterdays / All of my past mistakes / You've thrown them all away / You don't care at all". The fuzz filled guitar solo is great but much too short.
To Whom It May Concern is a happy, almost cheesy sounding song with a positive message of "being found in who you know".
You Are I Am is a very well crafted song that is sure to delight fans in live performances. Catchy, upbeat and joyful if there's one song that encompasses the feel of the entire album, it's this one.
Other highlights include the band's single Don't Give Up On Me. An interesting bass line and unusual drum beat in the verse give way to a reverb filled chorus. Mercy Me aren't usually compared to Mutemath (and for good reason), but with this song it's a surprisingly accurate description.
The title track is sung with emotion and passion. The band have clearly spent a long time perfecting the arrangement and lyrics. It's a very solid song.
Take The Time is worth a listen purely for the guest vocal of NeedToBreathe's Bear Rinehart. The song has a great soul feel to it with slide guitars and improvised vocals. It builds well and before you know it there's a chorus of voices uniting for an anthemic final chorus.
Despite a few stand out songs, sadly, many of the songs on the album simply pass you by. Much of the album is nice enough as background music, but there aren't enough songs that really grab your attention. This is particularly true of the last three tracks.
It's far from a bad effort, but Mercy Me have been producing the same style of music since 1991. Isn't it about time they branched out a little? I'm not asking for a hip hop album, just a greater focus on musicianship and a few more signs they their sound won't be entirely dictated by the adult contemporary category they've been shoved in for their entire career.
Rating: 7 out of 10
June 19th, 2012 - Posted & Written by Sam Hailes