Case Crayenord may be a new name to those in the UK, but the Dutch worship leader has a large following in the Netherlands.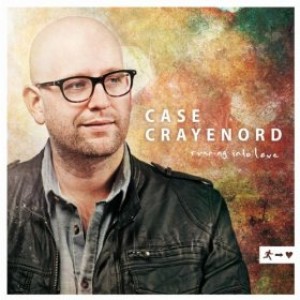 The musician has recently formed a strong friendship with Tim Hughes and Worship Central. With Running Into Love, his music is now being marketed at a UK audience through Kingsway Records. This marketing includes Case dropping the spelling of his birth name: "Kees Krayenoord" to make it easier for us Brits to pronounce his name!
While his name may be unfamiliar, not all of his music is. Recent Tim Hughes tunes including Saviour's Song were co-written with Case with other songs on Running Into Love being co-written with other well known names such as Ben Cantelon.
Like the majority of songs on the album, the opener Only You Can Save will be enjoyed by those looking for a new up beat song to try on a Sunday morning.
Case does well in communicating complex theological truths throughout the recording, but especially in Adopted. Both the tune and lyrics are creative as Case sings about being a "child and heir of the king".
Other songs such as Ruler Over All Creation are more hymn like than contemporary. Fans of Stuart Townend will love these moments full of real depth and meaning.
Saviour's Song is a great tune that many will have already heard on Tim Hughes's Love Shine Through. Case's version is just as pleasant to listen to, he even manages to reach the high notes reserved for Kim Walker-Smith on Tim's arrangement.
You Make Everything New is a surprising inclusion. Incredibly cheery, verging on cheesy the song has an infectious chorus. It sticks out, but whether that's for the right or wrong reasons is a matter of personal taste.
We Are On Our Way is one of the most upbeat songs on the album. You can tell Case is singing with passion and integrity. He may not push the musical boundaries as far as Worship Central artists, but when it comes to solid worship songs, you'll find plenty to enjoy on this album.
There's no doubt that Case is a gift to the church and a great songwriter. There's no reason why his popularity in the Netherlands can't translate to the UK. With a distinctive voice and a debut UK album packed full of new songs, you can expect to hear this songwriter's music across the church this summer.
Rating: 7 out of 10
July 19th, 2012 - Posted & Written by Sam Hailes