Heather Clark has been making music for many years. She's released over 10 CDs and has now signed to Jesus Culture Music.
Her debut album with the label has a strong opening. A powerful drum and bass sound is accompanied by a simple guitar pattern and atmospheric keys.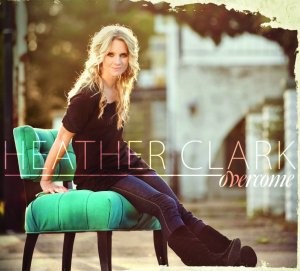 It's a great live sound as Heather sings "Come in / King of glory / Come in / We welcome you this day". Leading with the same intensity as Kim Walker, it's unsurprising Heather has joined up with Bethel's Jesus Culture.
Heather's music is loud and in your face to begin with. Second track Overcome has a piercing guitar riff before dropping down into a softer verse. Pitch perfect, her voice is a pleasure to listen to.
The song builds into the middle section where Heather sings "baptize us in the Holy Spirit / baptize us in fire". Incredibly, this section lasts for the better part of 4 minutes. Lovers of spontaneous live worship may appreciate this, but for most listeners, the repetition is tiresome.
With three songs clocking in at over 8 minutes, the album is not designed to be radio friendly. Working best as a whole, Overcome takes the listener on a journey that lasts just over an hour.
Kisses Of His Mouth is full of reverb and atmospheric keyboard sounds. The love song will appeal to those who enjoy worship songs with heavy romantic imagery.
Overcome ends with a beautiful rendition of How Great Thou Art. Remaining quiet until the final section, the finish is breathtaking as the musicians let themselves go. It's a stunning finish to a solid album.
But Heather is not just a talented songwriter and singer. She's a painter, dancer and writer too. As the owner of a dance academy, an international speaker and worship leader it's hard to fathom how she had the time to record the album! But rather than a rushed live album from yet another worship leader, Overcome is a well produced and thought through record from an experienced songwriter.
Defying well-worn stereotypes of female worship leaders singing slow ballads, Heather has produced a record that stands up to scrutiny. The instrumentation is exemplary and each arrangement is spot on. The album will appeal to those who enjoy lengthy live albums with Pentecostal overtones.
It's another impressive record from the Jesus Culture label. Put simply: If you enjoy Bethel and Jesus Culture's music, this album is a must-have.
Rating: 7 out of 10
August 22nd, 2012 - Posted & Written by Sam Hailes